DMV-native Rehan Staton was among the more than 700 graduates who walked the stage at the 2023 Harvard Law School commencement ceremony on Thursday.
Tens of thousands of people graduate law school each year with unique experiences, and Staton is no different. While he has many good memories, he said his journey to success has been a steep uphill battle since he was in elementary school.
"Ever since second grade when my mom ended up leaving, [my family] started to run into a lot of financial insecurities," Staton, 27, told ABC News.
Although he said his dad worked constantly while raising Staton and his brother by himself, Staton and his family dealt with housing insecurity caused by a lack of finances.
"There were holes in the ceilings. There was black mold festering in the basement. There were a lot of areas in the house that didn't have floors, it was literally below code, honestly. And the house didn't have heat for almost a decade. It was a really bad situation," he said, describing the home in which he was raised.
His living and financial situation adversely affected his educational experience, and according to him, the teachers he had growing up didn't make the situation any better. Staton recalled attempts to put him in special education classes and a teacher comparing his brain to a gym cabinet, alluding to his supposed lack of intelligence, which Staton said made him discouraged.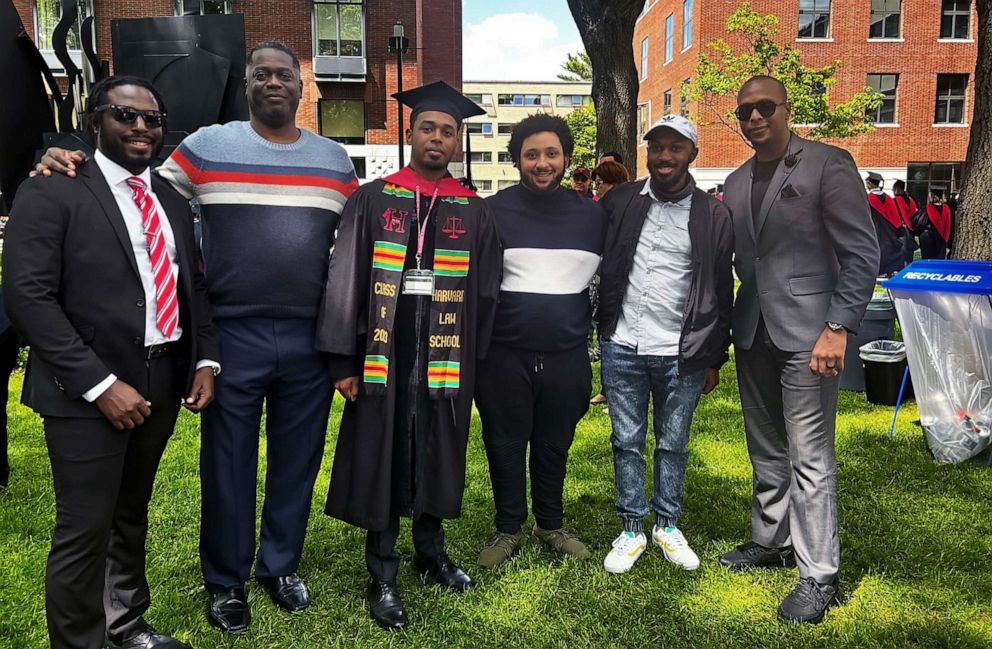 By high school, his grades had slipped, and he graduated with barely a 2.0 GPA and a low SAT score, hindering his college application process.
Staton turned to a familiar company for which most of the men in his family had worked, seeking to help his household and family financially: Bates Trucking and Trash Removal.
The Bladensburg, Maryland, sanitation company provided Staton with the stepping stone he needed to jump-start his life. Staton said it was his colleagues at Bates Trucking and Trash Removal who helped him reapply for college, and he eventually got accepted to Bowie State University.
Staton ended up transferring to the University of Maryland and graduating in Winter 2018 as the undergraduate commencement speaker. However, he soon began facing even more hardships that set him back again.
In 2019, Staton was overcome with an unknown sickness that left him bedridden, dropping from 150 pounds to 117 pounds. Due to his inability to work during that time, and his family's continued financial insecurity, his home was nearly foreclosed on. To prevent foreclosure, his father, who had recently suffered a stroke, was forced to return to work.
It was then that Staton knew he had to do something.
"If I can get to a place that has the resources, it takes out the middleman," Staton recalled thinking. "I can take care of the health issues. I can take care of the foreclosure. I can take care of my father being in a position in which he has to compromise his health."
He added, "And I said, 'Let's get into Harvard Law School.'"
Staton began studying for the LSAT while nursing himself back to health, though he was unable to seek professional tutoring or assistance due to his financial situation.
"My cousin would come over every single day, and he would hold, like, a cold rag over the back of my neck while I studied so I could distract myself from nausea, because I felt bad 24 hours a day," he said, adding that he never found out what he was sick with. "I would study like that for hours."
Less than a year after becoming ill, Staton took the the LSAT and was successful -- and on March 16, 2020, he was accepted into Harvard Law School.
A viral video of Staton reacting to his Harvard acceptance was eventually picked up by various media outlets, ultimately catching the eye of award-winning actor and filmmaker Tyler Perry, who opted to pay for the entirety of Staton's law school tenure.
Despite the hurdles he faced to reach the commencement stage on Thursday, Diane Rosenfeld, lecturer and founding director of the Gender Violence Program, emphasized that Staton, who took her Gender Violence, Law and Social Justice course at Harvard the spring before he graduated, is far more than his tribulations.
"He definitely overcame a lot of obstacles, and it's part of who he is, but it also doesn't define who he is," Rosenfeld said.
Harvard Law seminar lecturer Mandy DeFilippo agreed, telling ABC News that Staton epitomized the goal of her course, titled "Leading from the Middle," which Staton took.
"What's unique, I think, about him is his humility and perspective," said DeFillippo, managing director and COO of Legal & Compliance, Risk and Operations at Citadel Securities. "He remains humble and grounded, notwithstanding all of the achievements and attention that he so richly deserves."
Staton also never forgot where he came from, regularly giving back to his community and the staff at Harvard University. Most recently, he helped raise $70,000 for the university's janitors and support staff.
"At every point in my life, I can say it was through the act of someone's reciprocity and the community that I was allowed to get to the next level," Staton said.
Staton also created The Reciprocity Effect, an organization to increase visibility and the overall quality of life for support staff workers while bringing students and support staff closer.
Bates Trucking and Trash Removal helped co-found the organization and donated $50,000 to help jump-start the cause.
Staton will be moving to New York City soon, working at the Paul Weiss law firm, and hopes to ultimately rekindle his love of sports on the business side and eventually own a sports team.
"He does not forget where he comes from, and I really believe that's going to be a part of his story forever," DeFillippo said. "Going forward, that's going to be a part of what he's able to bring to the table and what will keep him grounded in his perspective as he moves through the world."