Zibby Owens is the host of the award-winning daily podcast "Moms Don't Have Time to Read Books." Founder of Zibby Books, Zibby Mag, Zibby Classes and more, she also owns an independent bookstore in Santa Monica, California, called Zibby's Bookshop. Author of "Bookends: A Memoir of Love, Loss, and Literature," Zibby is a regular contributor to "GMA." Follow her on Instagram at @zibbyowens.
May is such a hopeful month. Flowers are blooming. Mother's Day brings gifts, connection and family appreciation, or for some, a rough patch to traverse, only to enjoy the other side of spring. In the mountain of May releases, these novels and memoirs stand out for their prose, topics, authors and plots, collectively taking the reader from New Orleans, Las Vegas and the Hamptons to a remote Pennsylvania farm, a Canadian resort and a Vermont spa. For anyone looking to travel without taking a step, this list is for you.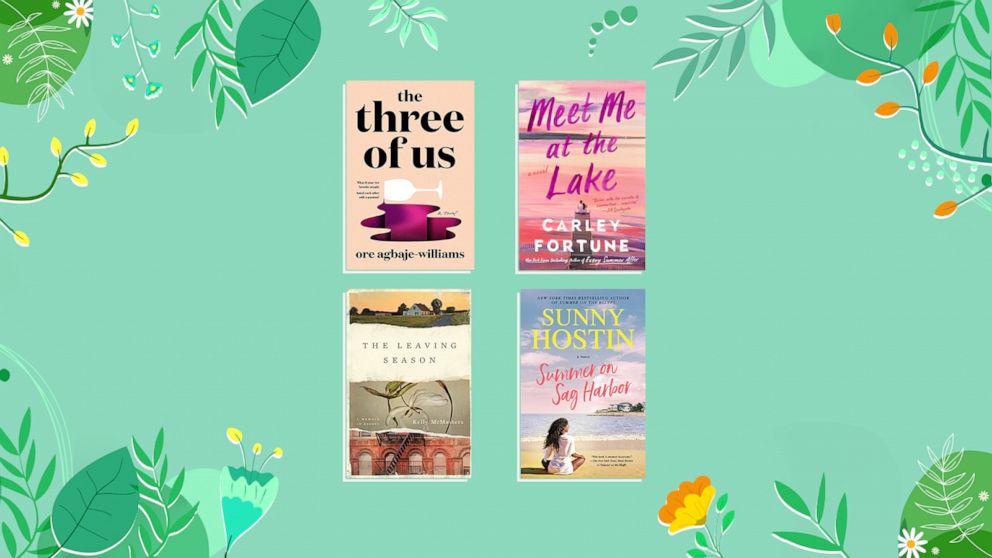 "The Leaving Season: A Memoir in Essays" by Kelly McMasters
I am obsessed with this memoir. I hung on every sentence -- every letter. It is one of the most beautifully written books I've ever read. Kelly McMasters is a literary giant, and after you read her book, it'll be hard not to root for her. McMasters' story starts on 9/11 when she becomes forever attached to her artist boyfriend. They move to rural Pennsylvania, get married, and have two children. But the story is in the details, the moments, the sounds of frogs, the footsteps on the stairs, the groaning mattress. Kelly deals with her erratically behaved husband by delving deep into motherhood while holding multiple jobs to keep her family afloat, ashamed of the yellow Medicaid insurance cards in her wallet. She opens a bookstore. She loses loved ones. She struggles. She reinvents. And all of it is presented in this gorgeous literary package. It's so good.
"Super Bloom" by Megan Tady
Years ago, debut novelist Megan Tady was given a massage and a journal for her birthday by her husband and wondered: what was the massage therapist thinking?! That launched her extensive research into the spa industry, all of which ended up in "Super Bloom." Go behind-the-scenes in a Vermont spa where Joan Johnston struggles to make ends meet, still grieving the recent loss of her boyfriend Samuel. When a famous romance novelist, Carmen Bronze, comes in for a session, she offers Joan a chance to earn more. Carmen wants detailed notes on what goes on in the spa for her next novel. But after writing about the goings-on, Joan reconsiders writing herself. A novel-within-a-novel, an ode to finding one's voice, a testament to the ability to contend with grief, and utterly hilarious, "Super Bloom" is a true gem -- and perfect as a Mother's Day gift, thanks to the self-care-themed cover.
"Meet Me at the Lake" by Carley Fortune
The other day, I walked past a man painting inside a Lexington Avenue storefront and thought, "This is just like 'Meet Me at the Lake!'" (But I kept walking.) In bestselling author Carley Fortune's new novel, Fortune explores a relationship that starts in a Toronto coffee shop which is being repainted -- complete with a mural -- and ends, like in her bestseller "Every Summer After," at the lake. Fortune explores the aftermath of losing a beloved parent and reclaiming a relationship in this unputdownable, witty, soulful and stirring novel.
"Summer on Sag Harbor" by Sunny Hostin
In Sag Harbor, which is part of the Hamptons, there's a community called SANS (Sag Harbor Hills, Azures, and Nineveh) that is home to African American elites -- and has been since the 1930s. That's the setting for "The View" co-host and multiple Emmy Award-winner Sunny Hostin's second novel in her bestselling summer beach series ("Summer on the Bluffs" was first). The story follows one of her previous characters, Olivia, on the search for what happened to her biological father who was unjustly killed as a police officer when she was young. It's a search for family, identify and faith, all told in Sunny's seemingly effortless, engaging prose.
"Late Bloomers" by Deepa Varadarajan
Dating apps for the senior set? Yes. In "Late Bloomers," law professor and debut novelist Deepa Varadarajan tackles later-in-life dating and how a grown brother and sister cope when their Indian-American parents are out on the prowl.
"The Three of Us" by Ore Agbaje-Williams
In this slim, clever novel, everything goes down over the course of boozy afternoon. A husband, a wife and the wife's best friend each get their point of view highlighted as the events of the day unfold -- and the husband starts confessing.
"The Covenant of Water" by Abraham Verghese
Wow. This novel is long but Abraham Verghese is a master. I absolutely loved his novel "Cutting for Stone" and couldn't wait to get my hands on his new work. Right away, we readers are swept away to another part of the world, one in which there is a family curse circulating about water, one that is so visually arresting, it feels like a movie. But what will happen in the family? It almost doesn't matter because the prose is so beautiful. It's hard to believe that Verghese is really a physician in his day-job and doesn't spend every waking moment working on his craft. A brutally intimate look at a mother's love and the power of family, "The Covenant of Water" will go down as a classic.
"Paper Names" by Susie Luo
The ultimate doorman rescue launches "Paper Names," a story about a Chinese American family, a building, intersecting paths and the power of helping each other. Tony and his daughter Tammy navigate life in the states differently from each other -- understatement! -- and contend with Oliver, the white lawyer keeping endless secrets. Susie Luo is a wonderful new talent as she paints a picture of a building in New York, the residents, the drama and more.
"Drowning: The Rescue of Flight 1421" by T.J. Newman
T.J. Newman was a flight attendant who wrote novels on the side until her first published work "Falling" became a No. 1 national bestseller (which, by the way, my teenage son loved -- and that's saying a lot). In her second novel, Newman writes about a commercial jetliner that crashes in the Pacific Ocean six minutes after takeoff and sinks to the bottom with 12 passengers trapped inside -- and the rescue that follows. Leading the rescue is the mom of a trapped girl and her own soon-to-be ex-husband.
"Oh My Mother! A Memoir in Nine Adventures" by Connie Wang
Journalist Connie Wang delves deep into her own relationship with her mother in what she calls the "oh my god" moments in their travels. As they go from Vegas to Amsterdam to Versailles, the two of them explore feelings of not belonging, how the love between them swells during the most tense times, and the universal experience of getting to know your family members as people unto themselves.
"Meet Me Tonight in Atlantic City: A Memoir" by Jane Wong
Jane Wong grew up in a struggling Chinese restaurant in Atlantic City, which is ultimately felled by her father's addiction. With a strong sense of place and voice, heart and soul, "Meet Me Tonight in Atlantic City" delivers a fresh take on the Asian American working class -- and one woman's journey to understanding her past.
"Love Buzz: A Novel" by Neely Tubati-Alexander
For anyone who has ever gritted their teeth through a bachelorette weekend, "Love Buzz" is the perfect escapist read. Serena Khan is mid-event in New Orleans and hating it until she meets a fellow Seattle-dweller. But after they part ways at the bar, how can she find him again?! And to what lengths will she go to reunite? A journey into identity, love, fate, and determination, "Love Buzz" is absolutely delightful.
"You Are Here: A Novel" by Karin Lin-Greenberg
Set in an upstate New York mall, "You Are Here" explores class, memory, loss, violence and commerce. Business is not good at the local mall. In fact, even the hair salon is down to one sole employee, whose son, an aspiring magician, is friends with a food court cashier. The cashier is coping with unwanted attention from someone at school and lives near an elderly woman who visits the hair salon regularly. A dramatic event unites all the players in this intricately woven original narrative. I could really see this being a play.
"Life B: Overcoming Double Depression" by Bethanne Patrick
From the outside, you'd never know that literary citizen, book reviewer, podcaster and "book maven" Bethanne Patrick struggled with anything. And yet, her deeply personal memoir reveals a complicated, difficult battle with not only depression but double depression, one that is resistant to medication and comes with suicidal ideation. A compassionate look back at her lifelong mental health issues and how she finally came to the other side, this memoir will help families and partners of anyone struggling -- and anyone struggling themselves.
"The Celebrants" by Steven Rowley and "Big Gay Wedding" by Byron Lane
I've grouped these two together because Steven Rowley and Byron Lane are married!
Rowley just won the Thurber Prize for American Humor, and it's not surprising. Witty beyond belief, Rowley's last novel, "The Guncle," was hilarious. His novel "The Editor" was thought-provoking and delightful, and his first book, "Lily and the Octopus," was a smash hit. Now, with "The Celebrants," Rowley creates a circle of five college friends who gather regularly over decades in "living funerals" to help each other through tough times. Twenty-eight years after graduation, there's a trip in store for the books.
Lane, author of "A Star is Bored," writes about the wedding season in a different way in "Big Gay Wedding" through protagonist Barnett Durang. Barnett is about to host his 200-person wedding extravaganza at his mother's farm in their small Louisiana town -- unbeknownst to her. Many in town don't want a big, gay wedding in their backyard.
Both books are fabulous and touch on family, friendship, love and navigating issues in a funny, smart way. What a couple!