'Spinach Gratin' is the perfect cheesy, creamy side dish for your holiday table
Side dishes can be, without a doubt, the stars of the Thanksgiving dinner table, and this year, it's time to break tradition and trade up for something new.
From a plethora of potatoes to roasted, glazed vegetables, the variety of ingredients you can use to transform your sides into inventive, delicious dishes are plentiful.
Oven Roasted Beets with Goat Cheese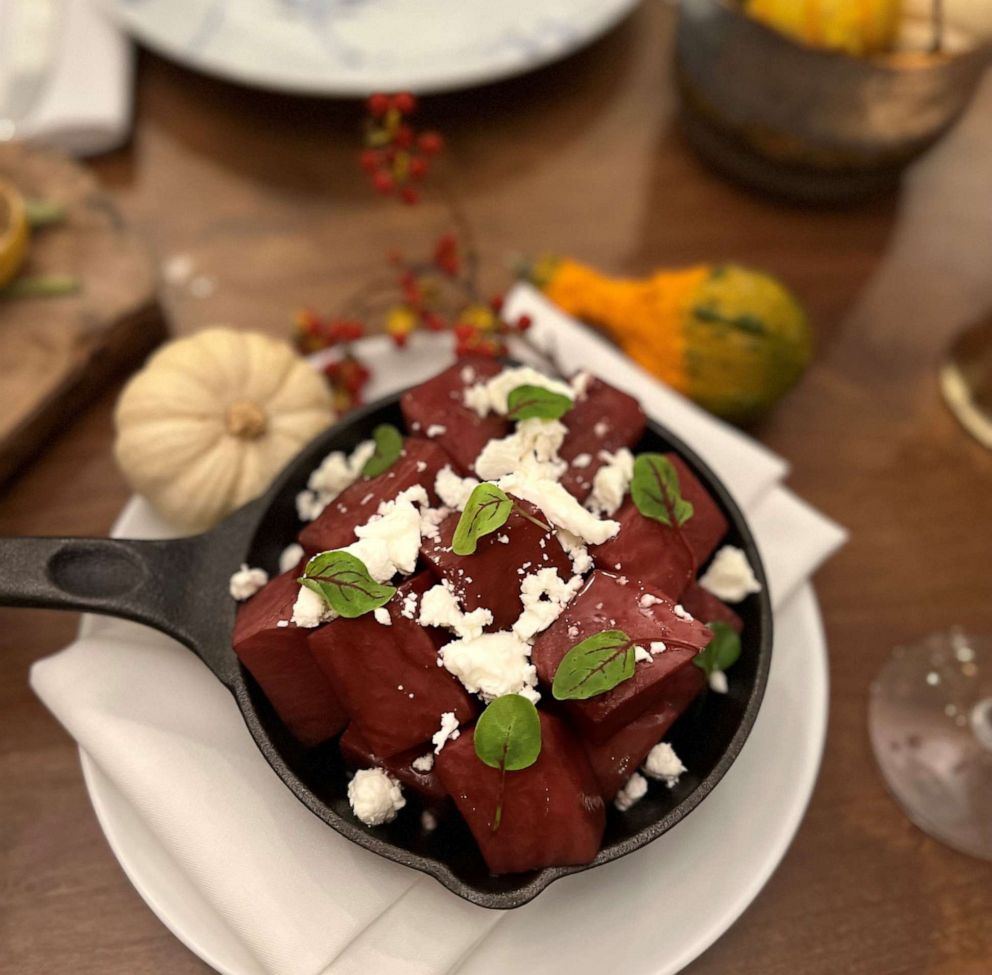 Executive chef Ulfet Ralph from Good Ground Tavern at Canoe Place Inn and Cottages shared a restaurant-worthy roasted vegetable side dish that's a perfect addition to any Thanksgiving menu. Plus, for any guests with dietary restrictions, this recipe is gluten-free.
Ingredients
2 pounds beets
3 cups Red Wine
1/2 cup Red Wine Vinegar
1 cup Crumbled Goat Cheese
2 tablespoons Sugar
Directions
Peel and cut beets into large cubes. Place the beets in large casserole dish. Add red wine and red wine vinegar.
Cover with foil and cook in 360 degree pre-heated oven for 45 minutes.
Remove the cover and let cool about 15 minutes.
Strain the liquid into a small saucepan, add sugar.
On low heat, reduce the liquid by a quarter.
Before serving, cover beets with red wine reduction.
Garnish with goat cheese and green herbs. Sprinkle with sea salt.
Brussels sprouts gratin
The Modern Proper creators Holly Erickson and Natalie Mortimer shared their decadent, cheese-laden riff on a classic turkey day vegetable for "a refreshing change" of Thanksgiving side dish lineup that's not creamed spinach and anything but a boring green bean casserole.
"Even the most die-hard Brussels sprout skeptic will probably be won over by the sheer indulgent goodness of this delicious casserole," they wrote about the recipe.
Serves: 8Cook time: 35 min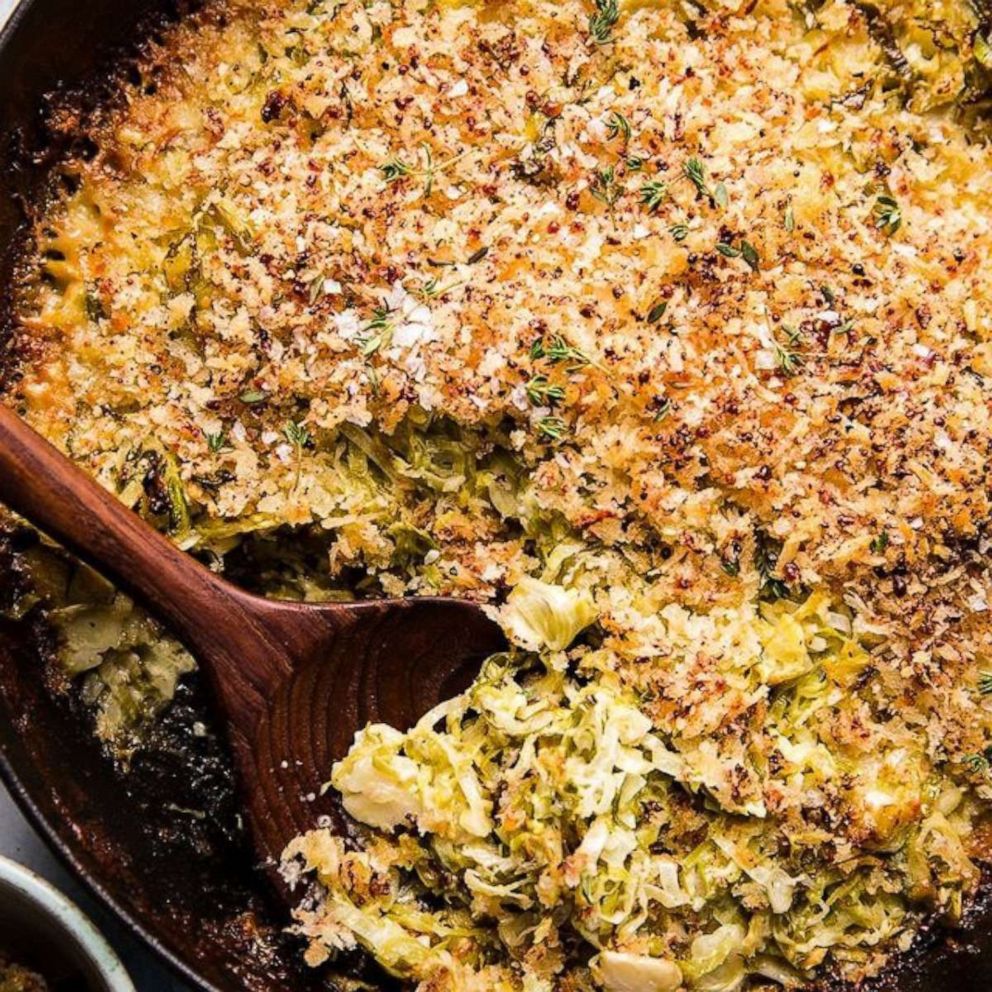 Ingredients
5 tablespoons olive oil
3 cups thinly sliced leeks, (3 large leeks) white and light green parts only
4 garlic cloves, minced
1 pound Brussels sprouts, ends trimmed, shredded
2 cups heavy cream
4 oz gruyere cheese, grated
1/2 cup Grated parmesan cheese
1 teaspoon Kosher salt
1/2 teaspoon Freshly cracked black pepper
2 teaspoon Minced, fresh thyme
1/4 teaspoon Nutmeg
1 cup Panko
Directions
Preheat the oven to 425 degrees. Grease a 9x13-inch baking dish with cooking spray or butter, set aside.
In a large skillet, heat 2 tablespoons olive oil over medium heat. Add the leeks to the pan and cook for 4 minutes. Add the garlic and cook for 1 minute longer.
Transfer the leek mixture into a large bowl along with the shredded Brussels sprouts, toss to combine.
Using the same skillet, add the cream, gruyere, 1/4 cup parmesan, salt, pepper, thyme and nutmeg. Bring to a simmer, stirring continuously until cheese melts and a thick sauce is achieved, about 3 minutes.
Pour the sauce over sprouts and leeks and toss to coat.
Transfer the sprouts mixture into the prepared 9x13-inch baking dish. Place it in the oven on the center rack for 20 minutes.
In a small bowl, combine the panko with remaining 1/4 cup parmesan and remaining 3 tablespoons of oil.
Scatter bread crumb mixture over sprouts and return to oven until golden brown, 5 to 8 minutes.
Roasted acorn squash with sweet-and-smoky spiced butter
Grab a sheet pan and try the Modern Proper's "simplest is best" recipe that roasts this sweet, golden squash with a lightly spiced butter for a nearly creamy, nutrient-dense interior. Check out more tips here for how to properly cut the acorn squash.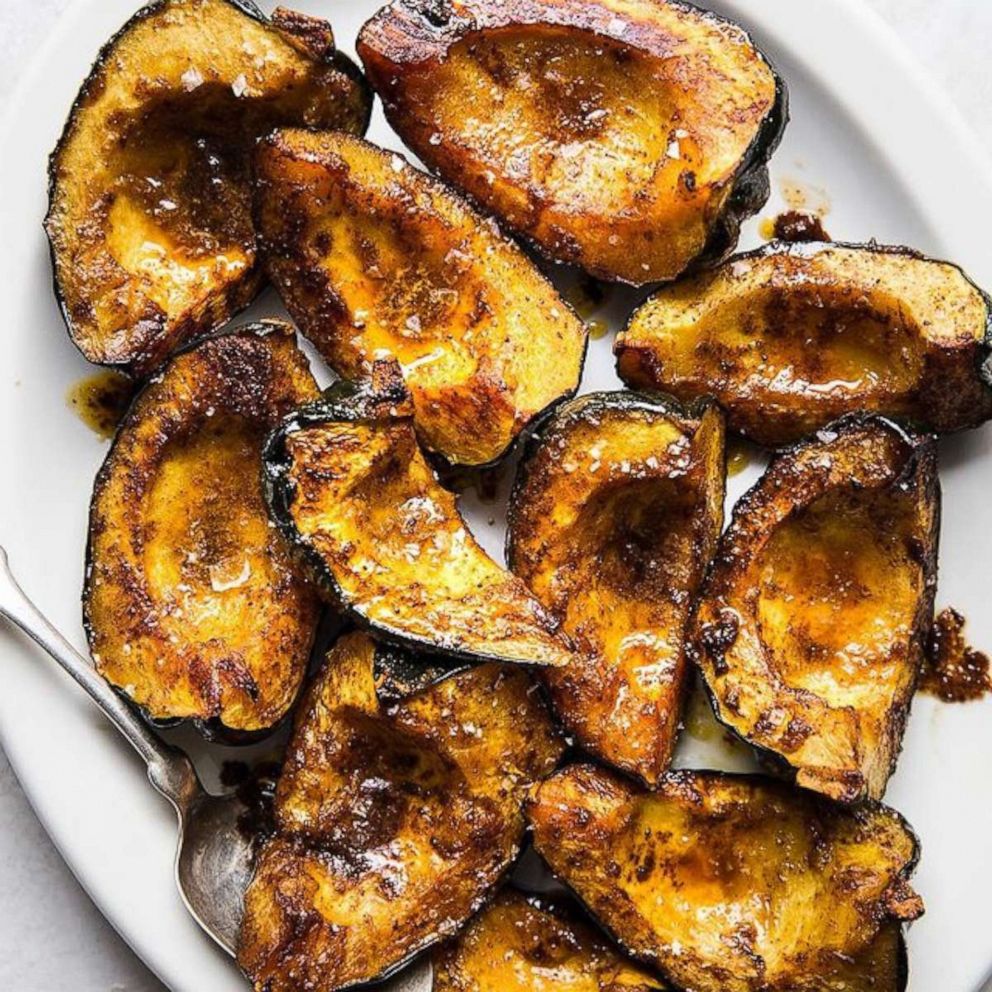 Serves: 8
Prep time: 10 min
Cook time: 50 min
Ingredients
4 small acorn squash (smaller than the size of your hand), membranes and seeds removed and quartered
1/2 cup butter, melted
1 tablespoon chili powder
2 teaspoon cumin
1 teaspoon salt
2 tablespoon brown sugar
Directions
Preheat oven to 400 degrees.
In a small bowl, combine melted butter, brown sugar and spices. Brush squash halves with butter mixture, reserving the remaining butter mixture in a bowl. Place squash, cut sides down, on a parchment paper–lined baking sheet.
Bake on center rack until the cut sides of the squash turn golden brown, 20 minutes. Flip squash onto its other side and continue cooking for 15 minutes. Remove from oven and flip squash skin side and spoon reserved butter mixture over it. Return squash to oven, and continue baking until browned and caramelized, 15 minutes.
Green beans with apples and sage butter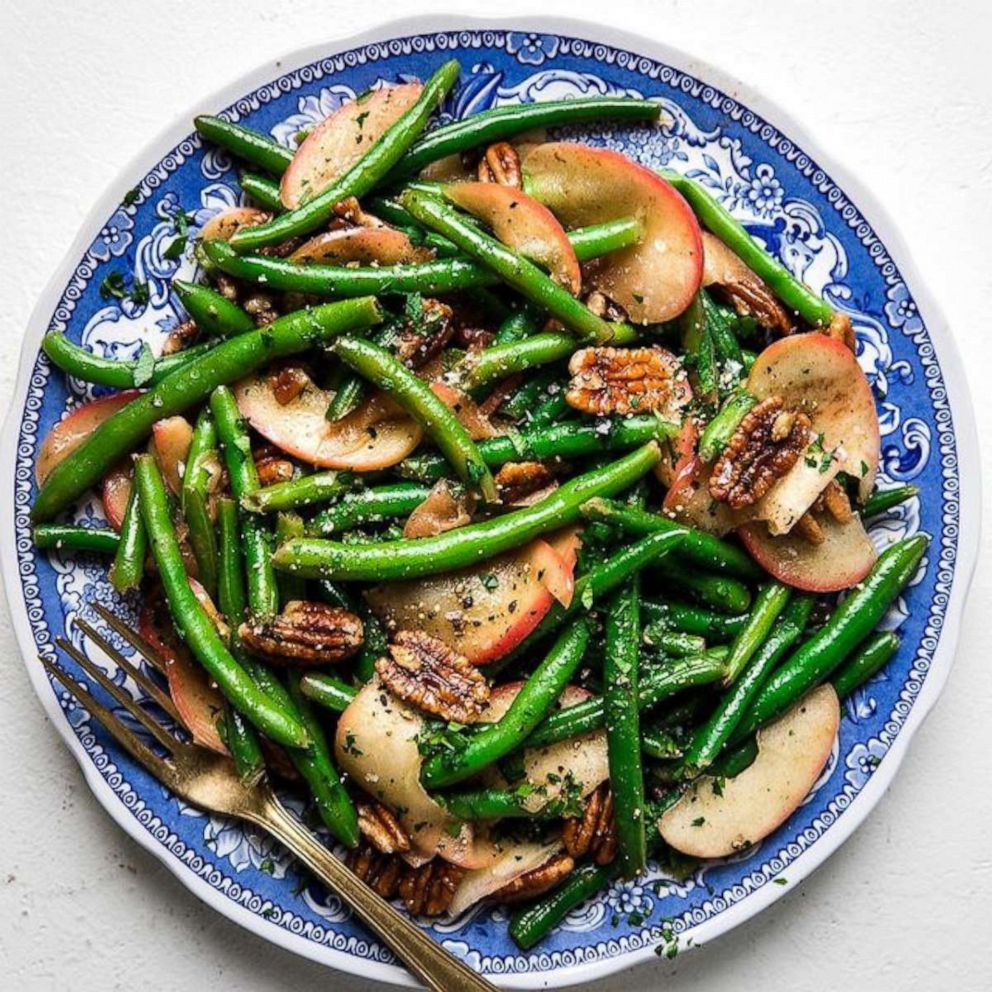 Skip the casserole dish and canned mushroom soup in favor of amping up the fall flavors with apples and sage for this delicious and vibrant side.
Serves: 8
Cook time: 15 min
Ingredients
1 tablespoon kosher salt
1 pound green beans, trimmed
1/2 cup pecan halves
1 large, firm sweet apple, like honeycrisp or fuji, cored and very thinly sliced
4 ounces (1 stick) salted butter, cut into 8 tablespoons
1 bunch sage leaves, about 20
Flaky salt and freshly ground black pepper to taste
Directions
Bring a large pot of water (3 quarts) seasoned with 1 tablespoon salt to a boil over high heat. Add the green beans and blanch until bright green and nearly softened about 3-5 minutes total.
Meanwhile, toast the pecans in a dry medium large skillet over medium heat until fragrant and beginning to brown, about 5 minutes. Transfer the pecans to a small bowl.
Add the butter to the skillet, once the butter is melted (this will happen quickly in an already hot skillet) add the sage leaves, reduce the heat to low and simmer for 2-3 minutes until the sage leaves are beginning to crisp and the butter begins to brown. Remove from heat.
Using a slotted spoon, transfer the sage leaves to a plate and use for garnish if desired. Place the skillet back over low heat, add the green beans, apples and pecans to the brown butter in the pan and toss to coat, until the green beans are tender and the apples are warmed through, about 4 minutes.
Season with flaky salt and black pepper. Serve warm.
Above recipes reprinted courtesy of The Modern Proper.
Chef, blogger and cookbook author Gaby Dalkin shared three additional vegetable options that are easy to pull off and full of fall flavors that are a perfect accompaniment on any Thanksgiving table.
Brown Butter Roasted Pumpkin, Delicata and Acorn Squash with Ricotta Salata and Pomegranate Seeds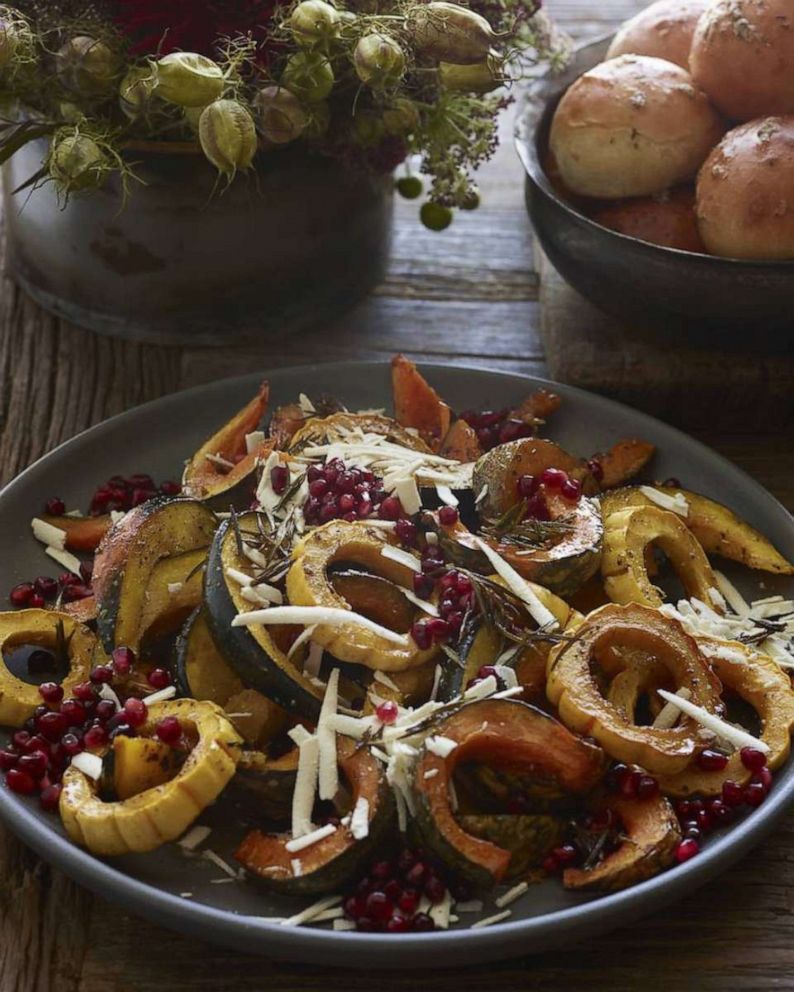 This trio of seasonal favorites are delicious on their own, but even stronger together and Dalkin tops the tender roasted veg with ricotta salata and pomegranate seeds for a fresh finish. Full recipe on What's Gaby Cooking here.
Shredded Brussels Sprouts Salad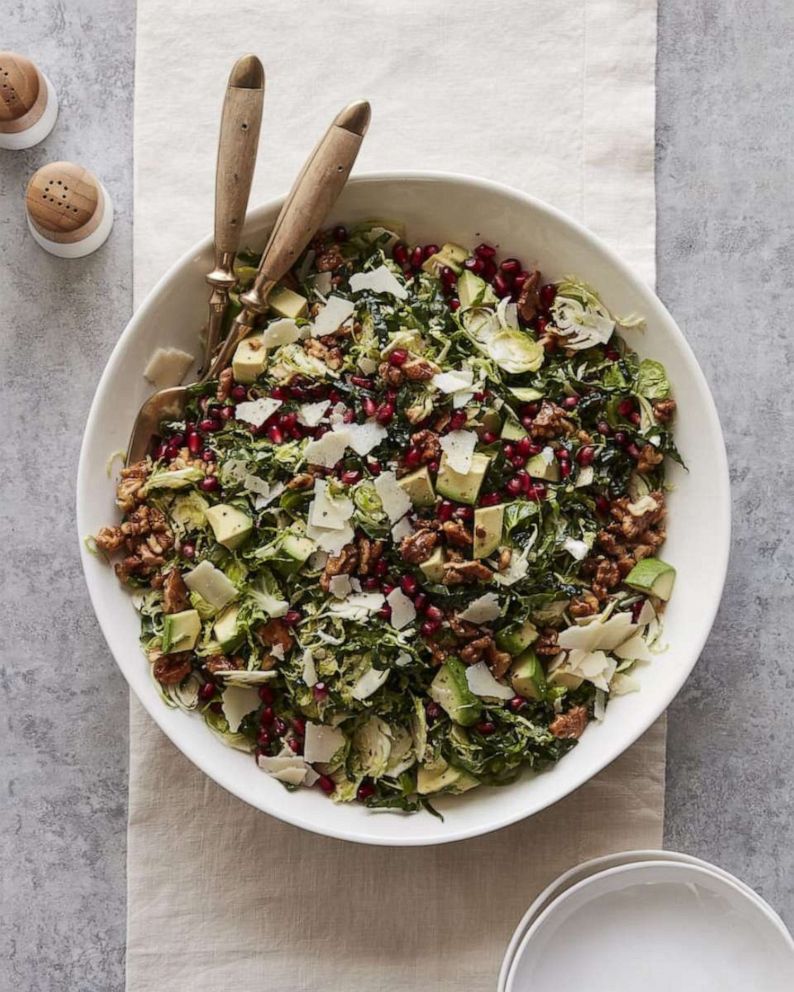 Get something raw, fresh and bright on the table to break up all the other heavy sides that everyone loves.
The California-based recipe developer slices her sprouts "super thin" and tosses it with candied walnuts, shaved parmesan cheese and avocados. You can do it on a mandolin, in a food processor or with a good old fashion knife! Check out the full recipe here.
Peas and Pancetta with Lemon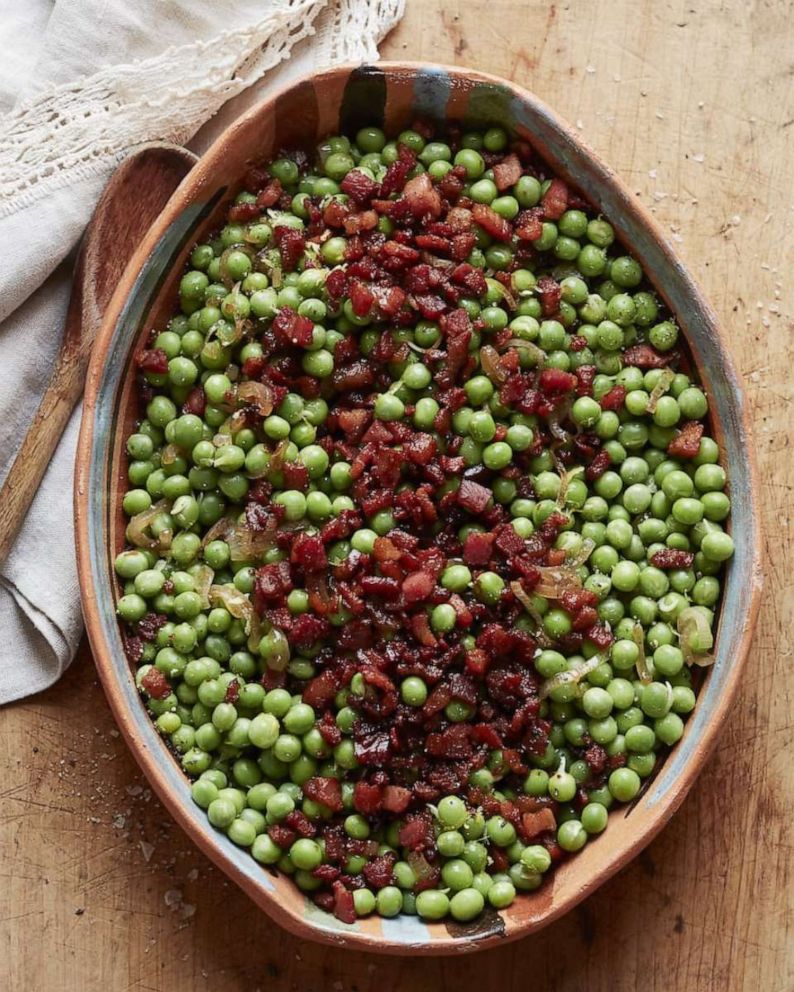 Another easy and delicious dish from Dalkin that she said is a huge hit for friendsgiving celebrations. If you have some fresh pancetta, frozen peas and a few minutes this side will be ready in no time. Click here for her simple recipe.
Editor's note: An earlier version of this story was first published on Nov. 9, 2021.