"Veg Forward" cookbook author Susan Spungen joined "GMA" on Monday to share three recipes from her new cookbook.
"This book is really about vegetables and vegetables are naturally beautiful. They're exciting and they have form and color," Spungen said of her veggie-forward technique and tip to make dishes look beautiful. "So I really try to get as much enticing color and texture into my food as I can."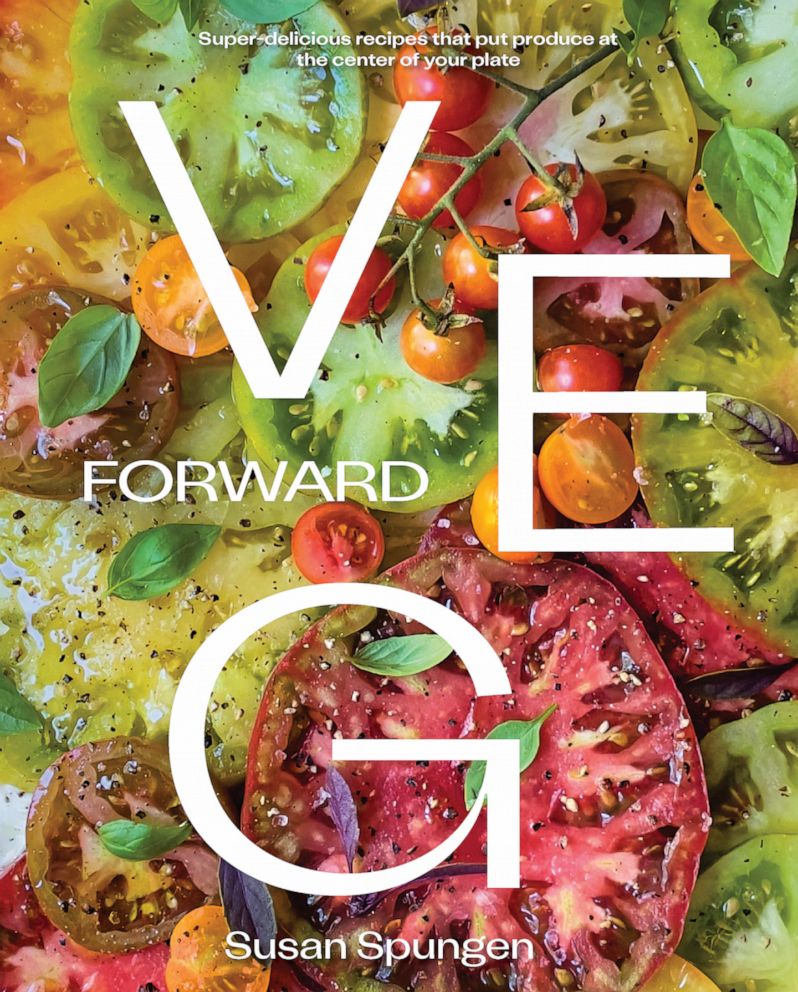 Check out her full recipes below.
Smoky Corn Salad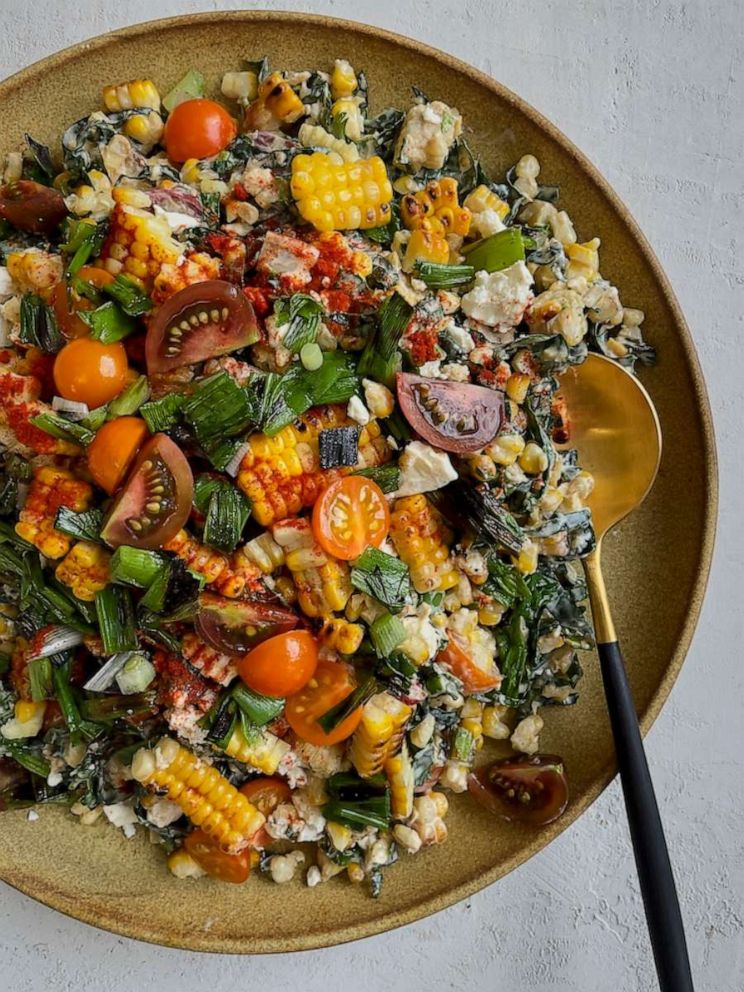 Serves 4 to 6
Ingredients
4 large ears corn, husked
2 tablespoons unsalted butter
1 jalapeño
12 scallions, trimmed
3/4 cup Greek yogurt
2 tablespoons lime juice
1/2 cup roughly chopped cilantro
Kosher salt and freshly ground pepper
2 cups shredded lacinato kale (stripped from the stems of about 6 large leaves)
1 pint cherry tomatoes, halved or quartered if large
2 to 3 ounces feta
1/2 teaspoon smoked paprika, plus more for finishing
Instructions
Heat a grill to medium-high. Wrap 2 ears of corn and 1 tablespoon butter in a snug packet with heavy-duty foil. Repeat with the other 2 ears.
Place the foil-wrapped corn directly on the grill and cook for 5 to 6 minutes on each side. Place the jalapeño on a cooler spot on the grill and cook for about 8 minutes, turning to brown evenly. Open one of the corn packets to make sure the corn is caramelized and brown; if not, turn the heat to high and grill for another 2 minutes on each side. Remove from the grill, open the foil packets, and let the corn cool somewhat.
Lay the scallions perpendicular to the grill grates and cook for 1 to 2 minutes on each side, until charred. Cut into 1-inch lengths. Set aside. Finely chop the jalapeño, leaving the seeds behind.
Using a sharp knife, cut the kernels from the cob into a bowl.
Whisk the yogurt, lime juice and cilantro in a small bowl. Season with salt and pepper to taste. Add the chopped jalapeño a little at a time, tasting as you go to get the right heat level.
Add the kale, half the scallions, half the tomatoes, half the feta, the smoked paprika and the dressing to the bowl and toss to combine thoroughly. Season with salt and pepper to taste.
Transfer to a serving bowl and top with the remaining tomatoes, scallions, and feta. Generously sprinkle smoked paprika over top and serve.
Sheet Pan Roasted Ratatouille with Socca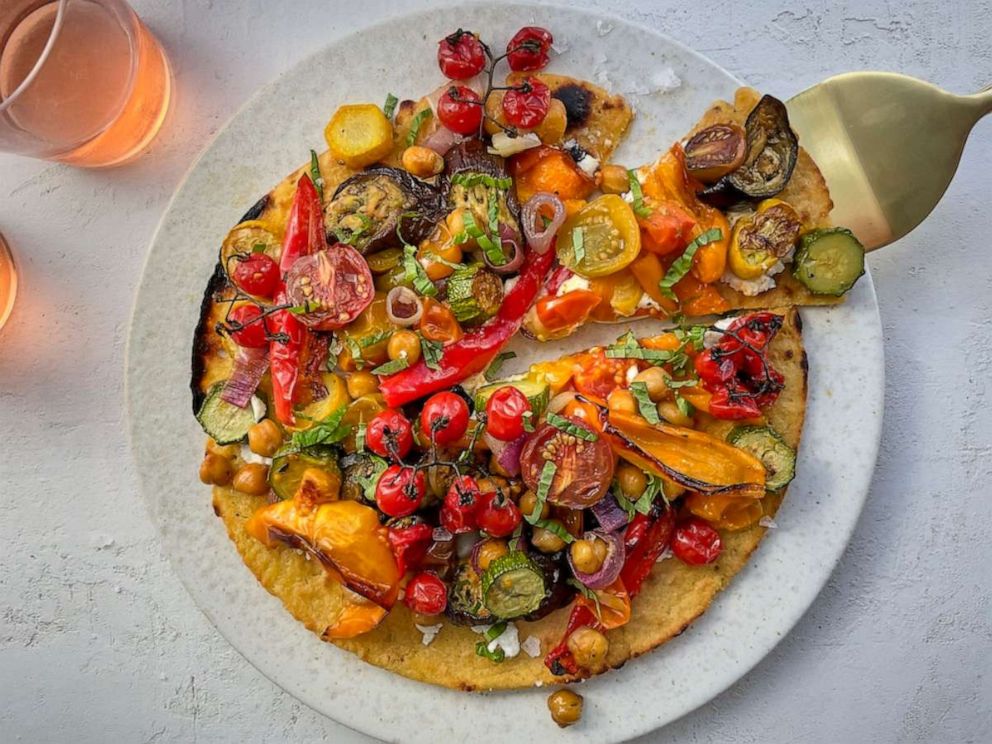 Serves 4 as a main and 6 to 8 as an appetizer
"Ratatouille is conclusive proof that what grows together goes together. In the classic version, each vegetable is cooked separately and then they are stewed together until creamy and homogeneous. My take is decidedly fresher and faster. The vegetables are roasted briefly on a sheet pan so they retain their individual characters."
Ingredients
1 small Japanese eggplant (4 ounces), cut 1/2 inch thick on the diagonal
2 small or 1 medium zucchini (10 ounces), cut into 1/2-inch-thick rounds
2 small or 1 large sweet red peppers (any kind), cut into strips
1 small red onion, cut into 1/4-inch-thick rings
Half a 15.5-ounce can chickpeas, drained, rinsed and blotted dry
1 garlic clove, thinly sliced
2 tablespoons olive oil, plus 2 teaspoons more for the tomatoes
1/2 teaspoon kosher salt
Freshly ground pepper
1/2 pint cherry tomatoes (any kind, or a mix), halved
2 thick socca, Chickpea Pancakes (recipe below)
4 ounces soft goat cheese
Flaky sea salt
8 to 10 basil leaves, shredded
Extra-virgin olive oil for drizzling (optional)
Instructions
Heat the oven to 425 F, with a rack in the middle. Toss the eggplant, zucchini, peppers, onion, chickpeas and garlic with the 2 tablespoons olive oil, salt, and pepper on a large baking sheet. Make sure all the vegetables are well coated. Coat the cherry tomatoes with the remaining 2 teaspoons oil and set aside.
Roast the vegetables on the baking sheet for 25 minutes. Remove from the oven, stir and turn the vegetables, and scatter the tomatoes on the baking sheet. Cook for 10 to 15 minutes longer, until the vegetables have browned a little and the tomatoes are shriveled but still intact.
Warm the socca in the hot oven for 5 minutes in the skillet you cooked them in, or on a small baking sheet, and transfer to a serving plate. Crumble the goat cheese evenly over the socca and top with the warm vegetables. Sprinkle with flaky sea salt and basil. Add a drizzle of extra-virgin olive oil, if desired. Cut into wedges and serve warm.
I like Japanese eggplant for this recipe, because they're devoid of seeds, hold their shape, and are small enough to be cut into rounds, but any small eggplant can be used; just cut into bite-size pieces.
The same goes for zucchini. Baby zucchini (4 to 5 ounces each) work great and look nice cut into rounds, but if using larger zukes, quarter them lengthwise before cutting them 1/2 inch thick.
Socca, Chickpea Pancakes
Ingredients
1 cup (101 grams) chickpea (garbanzo) flour
1 cup water
1/2 cup lightly packed (20 grams) finely grated Parmesan
2 tablespoons olive oil, plus more for cooking
3/4 teaspoon kosher salt
Freshly ground pepper
Instructions
Whisk together the chickpea flour, water, Parmesan, oil, salt and pepper until smooth. Cover with plastic and let rest for at least 30 minutes at room temperature. The batter can rest for up to 1 day, refrigerated.
Heat the broiler, with a rack 8 inches away. Then heat a 9- or 10-inch cast-iron skillet in the oven for about 5 minutes. Add 1 tablespoon oil to the pan and pour in about a third of the batter (scant 1/2 cup) for a thinner pancake or half the batter (3/4 cup) for a thicker one, tilting the pan to cover the bottom evenly. Return to the oven and cook until the pancake is blistered and browned on top, about 6 minutes for thinner socca and 7 minutes for thicker ones.
Slide the pancake onto a plate, reheat the pan for a few minutes, and repeat with the remaining batter.
Notes: If you don't have a broiler, you can make these on the stovetop, provided you make thin pancakes. (It's too difficult to flip thicker ones.) Heat the skillet until moderately hot over medium heat. Add 1 tablespoon olive oil and pour in the batter, tilting the pan to cover the bottom. For thinner pancakes, cook for 3 minutes on the first side and 1 minute on the second side.
Peach Almond Galette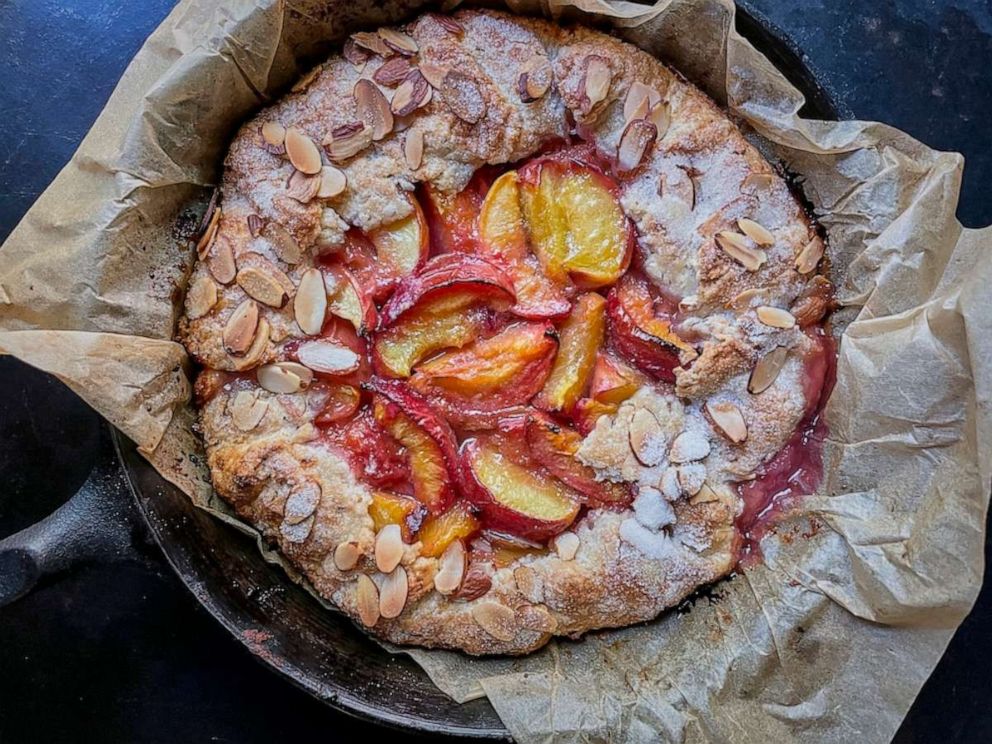 Makes one 12-inch galette, serves 8
For the crust
2 cups (256 grams) all-purpose flour
3/4 teaspoon kosher salt
1 tablespoon granulated sugar
1/4 cup (24 grams) sliced almonds
14 tablespoons (198 grams or 1 3/4 sticks) ice-cold unsalted butter, cut into 1/2-inch slices
1/4 cup (59 milliliters) ice water, plus more if needed
For the filling
2 pounds (6 to 8) peaches, ripe but firm
1/2 cup (101 grams) granulated sugar
1/4 cup (32 grams) all-purpose flour
For baking
1/4 cup (24 grams) sliced almonds
2 tablespoons granulated sugar
1 teaspoon unsalted butter
Instructions
To make the crust: Combine the flour, salt, sugar, and almonds in a food processor; pulse until combined. Add the butter and pulse until the largest pieces are the size of walnut halves. Transfer to a wide bowl and squeeze the butter pieces, flattening them between your fingers. Sprinkle the ice water over the flour mixture and mix it in evenly, tossing with a fork. If there are a lot of loose, dry crumbs at the bottom of the bowl and it won't hold together when squeezed, add more ice water, 1 tablespoon at a time.
Press the dough together, gathering up any dry bits until the dough forms a shaggy, cohesive mass. Transfer to a sheet of plastic wrap. Wrap and press into a flat, round disk. Shape the edges with your hands so they are not crumbly. Chill until firm, at least 1 hour and preferably 2, and as long as 2 days. Or freeze for up to 3 months.
Heat the oven to 400 F, with a rack in the middle. Let the dough soften slightly at room temperature until it's malleable enough to roll out. On a lightly floured piece of parchment paper about 18 inches long, roll the dough out into a circle roughly 15 inches in diameter and 1/8 to 1/4 inch thick. It may hang over on the short sides.
Lift the parchment by opposite corners and transfer to a large (12-inch) cast-iron skillet or another ovenproof skillet, fitting the parchment and dough into the pan. Refrigerate for about 15 minutes.
Meanwhile, make the filling: Cut the peaches into 6 or 8 wedges each and toss with the sugar. Sprinkle the flour on the dough, evenly covering the bottom of the dough-lined pan. Tumble the peaches into the dough and fold the dough over all around to enclose the filling. Refrigerate again until firm, 15 to 30 minutes.
Brush the crust with cold water and sprinkle with the almonds. Sprinkle the sugar over the fruit and crust. Dot the filling with butter and bake for 55 to 65 minutes, or until the filling is furiously bubbling and the crust is deep golden brown.
Place the skillet on a cooling rack or a cool stove burner grate and let cool for at least 30 minutes to let the juices thicken. Carefully pick up the parchment by opposite corners, transfer to a serving plate, and slide out the paper (or don't). Serve the galette warm or at room temperature.
Note: You can use any fruit, using about 2 pounds of whatever is in season, adjusting the sugar to your taste and the sweetness of the fruit. Try apricots, plums, apples, pears, berries or a combination. In most cases, 3 to 4 tablespoons of flour is about right for thickening the fruit juices, but if your fruit mixture seems extra juicy, just add a little more. If the fruit looks soupy in the oven, don't worry -- it will thicken as it cools.
Recipe reprinted with permission from "Veg Forward: Super-Delicious Recipes that Put Produce at the Center of Your Plate" by Susan Spungen. Copyright © 2023 by Susan Spungen. Used by permission of Harper Celebrate, https://www.harpercollinsfocus.com/harper-celebrate.