Our favorite Tom Hanks moments for his birthday
Taylor Hill/FilmMagic/Getty Images
Tom Hanks is warning fans about a fake advertisement using an artificial intelligence-generated version of his likeness without his permission.
The two-time Oscar-winning actor shared an image of the ad, which Hanks says falsely depicts him, with what appears to be an aged-down version of Hanks made using AI, to Instagram over the weekend.
"BEWARE!! There's a video out there promoting some dental plan with an AI version of me," he wrote over a photo from the deepfake ad. "I have nothing to do with it."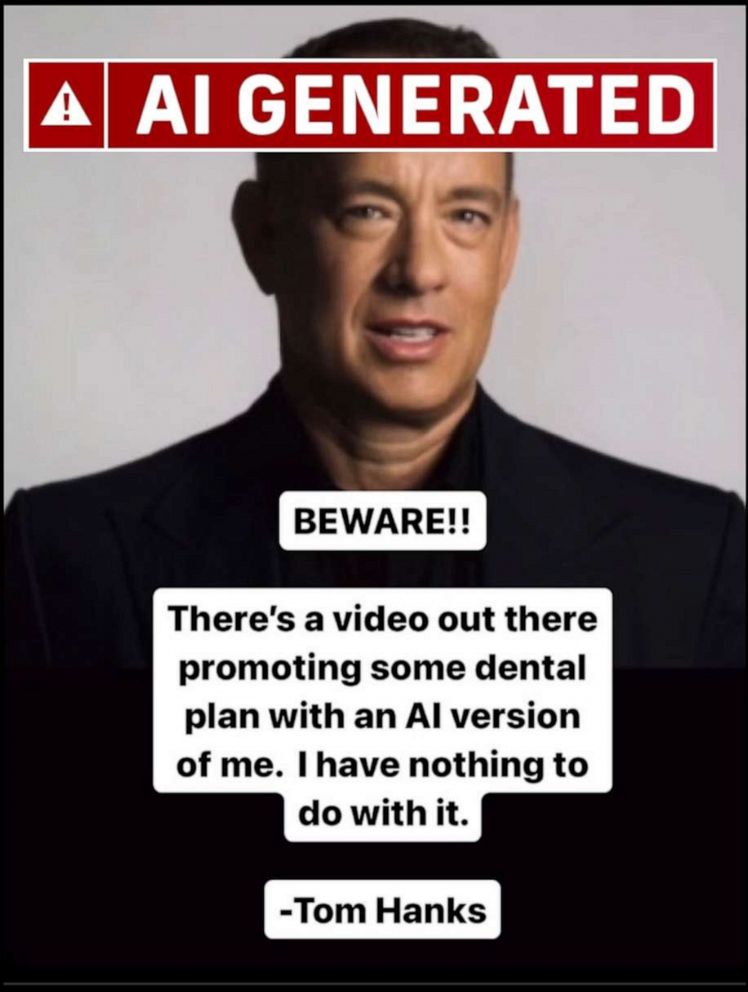 He did not reveal the name of the company behind the AI-generated dental ad or where it was shared.
A representative for Hanks told ABC News they had no additional comment on the matter.
Hanks previously opened up about AI and deepfake technology during an interview on "The Adam Buxton Podcast" earlier this year.
The actor said he first saw this development in action while making the 2004 computer animated film "The Polar Express."
"We saw that there was going to be this ability in order to take zeros and ones inside a computer and turn it into a face and a character," he said at the time. "Now, that has only grown a billion-fold since then and we see it everywhere."
Foreshadowing the Hollywood strikes, which have hinged partly about the topic of AI, Hanks noted that there were "discussions going on in all of the guilds, all of the agencies and all of the legal firms in order to come up with the legal ramifications of my face and my voice -- and everybody else's -- being our intellectual property."
The Writers Guild of America, or WGA, and the Screen Actors Guild-American Federation of Television and Radio Artists, or SAG-AFTRA, went on strike earlier this year over a range of issues including the use of AI. Writers and actors alike said they were concerned about losing work and credits to AI. The WGA approved a tentative agreement with studios late last month, which prohibits studios from using AI to write or rewrite literary material, or requiring writers to use AI, according to a WGA summary.
Actors, under SAG-AFTRA, are still on strike.
Hanks joked on "The Adam Buxton Podcast" that he could pitch movies starring him at the age of 32 "from now until kingdom come" and the performances could go on and on even if he was "hit by a bus tomorrow."
"Outside of the understanding that it's being done by AI or deepfake, there'll be nothing to tell you that it's not me and me alone," he said then, noting that the discussion is "an artistic challenge" and "a legal one."
"Without a doubt people will be able to tell [it's not actually me]," he added. "But the question is will they care?"