"The List" by multi-award-winning journalist and best-selling author Yomi Adegoke is our "GMA" Book Club pick for October.
Adegoke's new novel is a story about internet culture and tackling complicated moral questions surrounding "call-out" practices in the age of online backlash. Adegoke uses fiction as a tool to explore the gray areas of truth in the online universe.
A month before journalist Ola Olajide's wedding to her fiance Michael, a list floating around social media with allegations includes his name.
Olajide is forced to navigate the social pressures of internet culture while testing her own sensibilities of truth and lies in an age rife with misinformation.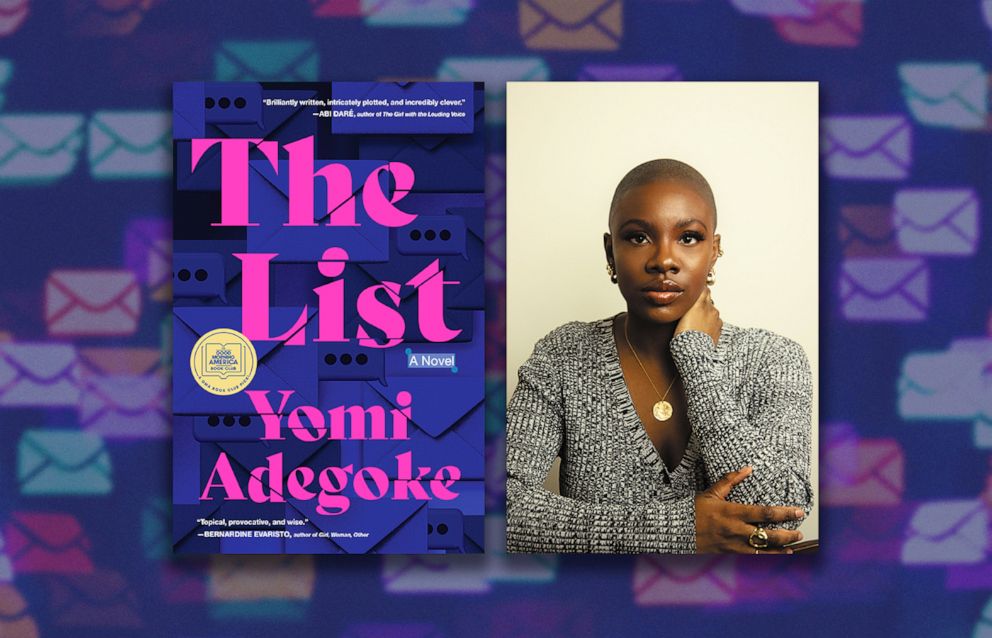 Read an excerpt below and shop the book here.
This month, we are also teaming up with Little Free Library to give out free copies in Times Square and at 150 locations across the U.S. and Canada. Since 2009, more than 300 million books have been shared in Little Free Libraries across the world. Click here to find a copy of "Happiness Falls" at a Little Free Library location near you.
Read along with us and join the conversation all month long on our Instagram account -- GMA Book Club and #GMABookClub.
***************************
They had been out celebrating the night before it happened. Their table, an unintended shrine to the schadenfreude gods, littered with emptied, gilded champagne flutes and bottles now upturned in their buckets. The happy couple unknowingly toasting the beginning of the end.
The room was dimly lit, the air salted by sweat from sticky-skinned revelers. It was after 9 p.m., so the bar area had morphed into a makeshift dance floor where London's shabbily dressed creative elite were slotting together like Tetris blocks. Michael surveyed the scene as he sat in the corner of an oxblood-colored booth, his wife-to-be's long legs stretched out across his lap. He felt like the man. Sloppily drunk, Ola yawned jungle-cat wide under her mop of dark-blue braids. Then she stumbled slightly as she pulled herself upright to start their third fake fight of the night.
"But I CANNOT believe you," Ola said faux-sulking, sticking out her bottom lip in a manner that took years off her. This was not helped by the fact that her dark-plum lipstick was smeared at the corners of her mouth, making her baby face resemble a toddler who'd raided her mum's makeup bag. "You really can't say it?"
Michael reached over her lap for another glass. "How am I supposed to know the answer, bruv!" he said. Though tipsy, he hadn't drunk that much and realized it would be some time before he caught up with her. They'd moved on to wine now and were sat in a private members' club whose name he couldn't remember; he wasn't even sure how they'd got in. Indiscriminate EDM was blaring from somewhere in the crowded room as he felt the Merlot mingle with his blood and warm him. It was all a happy blur: he wouldn't remember most of it the next day but the small details would stick with him. Ola's outfit—a black-lace bralette paired with a gray blazer and tapered trousers. Their stifled laughing at the wallto- wall, offbeat dad dancing. How her neck smelt, the softness of her skin and lips. They'd spent a good portion of the evening snogging in darkened corners like teenagers.
"It's a straightforward question, babe." She pushed out her lip further still, in an unconvincing attempt to appear serious and slighted. "You not answering is an answer, to be honest."Ola clumsily untangled her legs from his and turned her back to him, arms crossed. Very obviously, she peered over her shoulder to see if he was still looking at her. "If you're not gonna shed thug tears at the wedding, I don't even want it," she slurred.
Michael feigned a pensive sigh, knowing it would rile her up. "All right, give me a minute to think."
She whipped back around. "A MINUTE? An entire sixty seconds to decide whether the 8th of June will be the happiest day of your life? The day you yourself said you've been waiting for since the first time you laid eyes on me? And then you wonder why I say men can lie!"
"I mean, I did see Thierry Henry at Gatwick that time in '08," he offered wryly. "And he nodded at me, I told you, innit?"
"You're a prick..."
"Let me at least get to the church and see what it's saying." Michael chuckled. "You know I don't like weddings like that."
Ola kissed her teeth. "Yeah, well, at this rate there won't even be one. The fact you're saying you're not gonna be happy on our own wedding day—"
"Ola! When did I say that, please?"
"—is an absolute madness. What's currently ranking higher? Enlighten me."
Michael stroked his beard.
"Do NOT say the first time I let you smash, Michael!" she said, jostling a glass in her right hand and punching his arm with the left.
He shot her a falsely incredulous look, eyebrows raised in mock shock.
"I mean it! Because I'm about to go full 'Real Housewives of Streatham' and dash this at you."
Laughing, Michael pulled her face toward him. He looked at her, taking her in for a moment with his eyes dopily half closed, and kissed her forehead.
Ola wriggled and wiped it, giggling hysterically. "Move, man! You're trying to distract me and it won't work. I want answers, Michael. ANSWERS!"
She was raising her voice now; a few heads at the bar had turned and begun to look over. Michael could not believe how much he loved to indulge her, even when she was causing a scene. Today, he felt he could say without hesitation he loved every single thing about her. In fact, he was sure at this very moment, he loved her more than anything else in the world.
He couldn't remember a time they'd been happier. He never would. He would revisit this evening in the weeks after it happened, and think about all the things he would have said and done differently. That if he had known what the next day held, he wouldn't have dared to risk joking about their future together. He would have told her that he struggled to pinpoint the happiest day of his life because he couldn't decide between the day she agreed to marry him or the day she told him she loved him too. That he knew it would next be their wedding day, but one day that too would be overtaken by them having their first child.
He let a smirk slip, before kissing her forehead tenderly once more. "When did we first smash again?" he asked, flinching as her fist missed his arm and landed on the seat cushion with a thud.
From The List by Yomi Adegoke. Copyright © 2023 by God's Favourite Limited. Reprinted by permission of William Morrow, an imprint of HarperCollins.