"Happiness Falls," an emotional and riveting mystery by award-winning author Angie Kim, is our "GMA" Book Club pick for September.
When a father, Adam Parson, vanishes in Virginia, his tight-knit Korean American family is forced to dig deep within themselves, and each other, to find their missing loved one in a race against time.
Narrated by Parson's daughter, Mia, the novel follows a family's desperate search for their father. Further complicating the search, Eugene, the man's son and only witness to his disappearance, suffers from a rare genetic condition called Angelman syndrome that stunts his speech. The hunt uncovers secrets, revealing the missing loved one to be far from the man they know and love.
Kim follows up her debut hit, "Miracle Creek," with a powerful story of racial identity, family, secrets, love and human connection.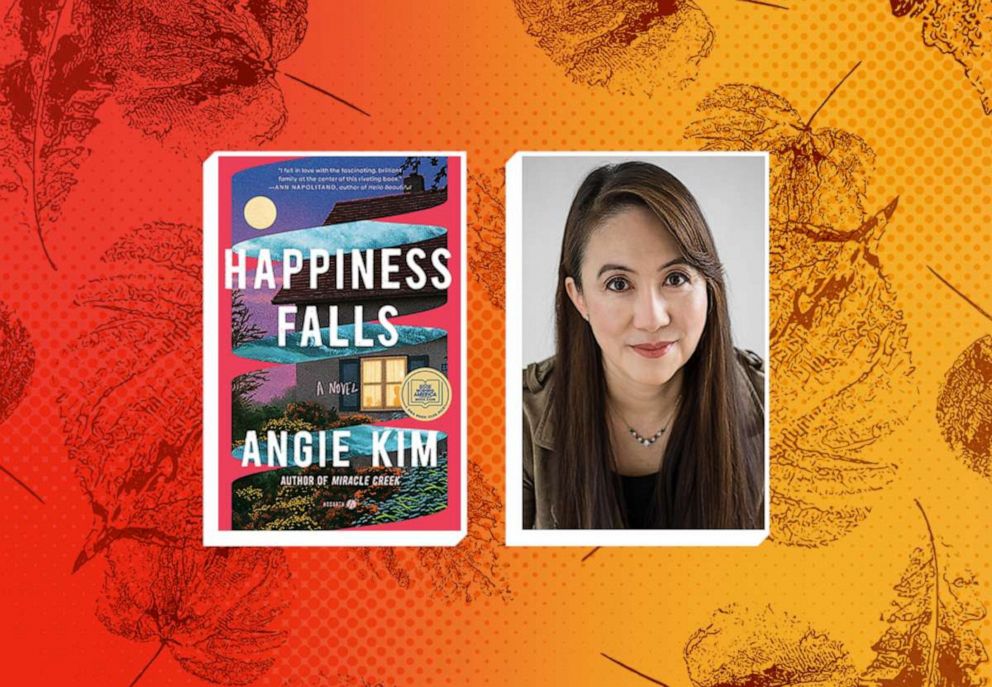 Read and listen to an excerpt below and get a copy of the book here.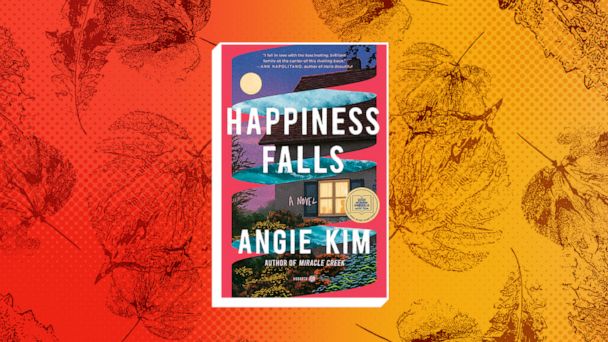 ABC News Photo Illustration, Hogarth, Nina Subin
'Happiness Falls' by Angie Kim
When a father goes missing, his family's desperate search leads them to question everything they know about him and one another in this thrilling page-turner, a deeply moving portrait of a family in crisis from the award-winning author of "Miracle Creek."
This month, we are also teaming up with Little Free Library to give out free copies in Times Square and at 150 locations across the U.S. and Canada. Since 2009, more than 300 million books have been shared in Little Free Libraries across the world. Click here to find a copy of "Happiness Falls" at a Little Free Library location near you.
Read along with us and join the conversation all month long on our Instagram account, GMA Book Club, and using #GMABookClub.
*****
We didn't call the police right away. Later, I would blame myself, wonder if things might have turned out differently if I hadn't shrugged it off, insisting Dad wasn't missing missing but just delayed, probably still in the woods looking for Eugene, thinking he'd run off somewhere. Mom says it wasn't my fault, that I was merely being optimistic, but I know better. I don't believe in optimism. I believe there's a fine line (if any) between optimism and willful idiocy, so I try to avoid optimism altogether, lest I fall over the line mistakenly.
My twin brother, John, keeps trying to make me feel better, too, saying we couldn't have known something was wrong because it was such a typical morning, which is an asinine thing to say because why would you assume things can't go wrong simply because they haven't yet? Life isn't geometry; terrible, life-changing moments don't happen predictably, at the bottom of a linear slope. Tragedies and accidents are tragic and accidental precisely because of their unexpectedness. Besides, labeling anything about our family "typical"—I just have to shake my head. I'm not even thinking about the typical-adjacent stuff like John's and my boy-girl twin thing, our biracial mix (Korean and white), untraditional parental gender roles (working mom, stay-at-home dad), or different last names (Parson for Dad + Park for Mom = the mashed-up Parkson for us kids)—not common, certainly, but hardly shocking in our area these days. Where we're indubitably, inherently atypical is with my little brother Eugene's dual diagnosis: autism and a rare genetic disorder called mosaic Angelman syndrome (AS), which means he can't talk, has motor difficulties, and—this is what fascinates many people who've never heard of AS—has an un- usually happy demeanor with frequent smiles and laughter.
Sorry, I'm getting sidetracked. It's one of my biggest faults and something I'm trying to work on. (To be honest, I don't like shutting it down entirely because sometimes, those tangents can end up being important and/or fun. For example, my honors thesis, Philosophy of Music and Algorithmic Programming: Locke, Bach, and K-pop vs. Prokofiev, Sartre, and Jazz Rap, grew from a footnote in my original proposal. Also, I can't help it; it's the way my mind works. So here's a compromise: I'll put my side points in footnotes. If you love fun little detours like Dad and me, you can read them. If you find footnotes annoying (like John) or want to know what happened ASAP (like Mom), you can skip them. If you're undecided, you can try a few, mix and match.)
So, anyway, I was talking about the police. The fact is, I knew something was wrong. We all did. We didn't want to call the police because we didn't want to say it out loud, much the same way I'm going around and around now, fixating on this peripheral issue of calling the police instead of just saying what happened.
Here goes: My fifty-year-old father, Adam Parson, is missing. At 9:30 a.m. on Tuesday, June 23, 2020, he and my fourteen-year-old brother Eugene hiked to the nearby River Falls Park, the same as they had done most mornings since I'd been home from college for the quarantine. We know they made it to the park; witnesses have come forward, a dozen hikers and dog-walkers who saw them together at various points around the waterfall trail as late as 11:10 a.m. At 11:38 a.m. (we know the exact time from the dashcam recording), Eugene was out of the woods, running in the middle of a narrow country road in our neighborhood, forcing a driver who'd run through a stop sign and turned too fast to swerve into a ditch to avoid hitting him. Just before the dashcam video jolts from the crash, you can see a fuzzy Eugene, not stopping, not turning, not even looking at the car or at anything else—just stumbling a little, so close to the car you'd swear he got hit. The screech of the tires and the sound of the car thudding into the ditch, not to mention the chain reaction of the two cars behind it, apparently caused a terrible cacophony of metallic crunch-ing, banging, and squealing that brought people out, and bystanders reported seeing a boy they later identified as Eugene staggering away. It bears note that not one of the five bystanders, three drivers, or two passengers involved in the crash saw my father precede, follow, or accompany Eugene. We confirmed this multiple times, and it is beyond dispute: Eugene was in our neighborhood alone.
From "Happiness Falls" by Angie Kim. Copyright © 2023 by Angie Kim. Excerpted by permission of Hogarth Books an imprint within the Random House Publishing Group.