Cast, judges and hosts talk season 32 of 'Dancing With the Stars'
September 26, 2023, 12:30 pm
Ahead of Tuesday night's "Dancing with the Stars" season 32 premiere, airing live at 8 p.m. ET on ABC and Disney+, catch up on the celebrities competing for the coveted Mirrorball Trophy.
"Good Morning America" exclusively revealed the full list of celebrities and pros earlier this month.
Hitting the ballroom this year are actress Alyson Hannigan, "Brady Bunch" alum Barry Williams, singer Jason Mraz, Oscar winner Mira Sorvino and model Tyson Beckford to name a few.
Season 19 winner Alfonso Ribeiro will co-host alongside former pro and judge Julianne Hough, a two-time Mirrorball champ. Derek Hough, Carrie Ann Inaba and Bruno Tonioli are back as judges.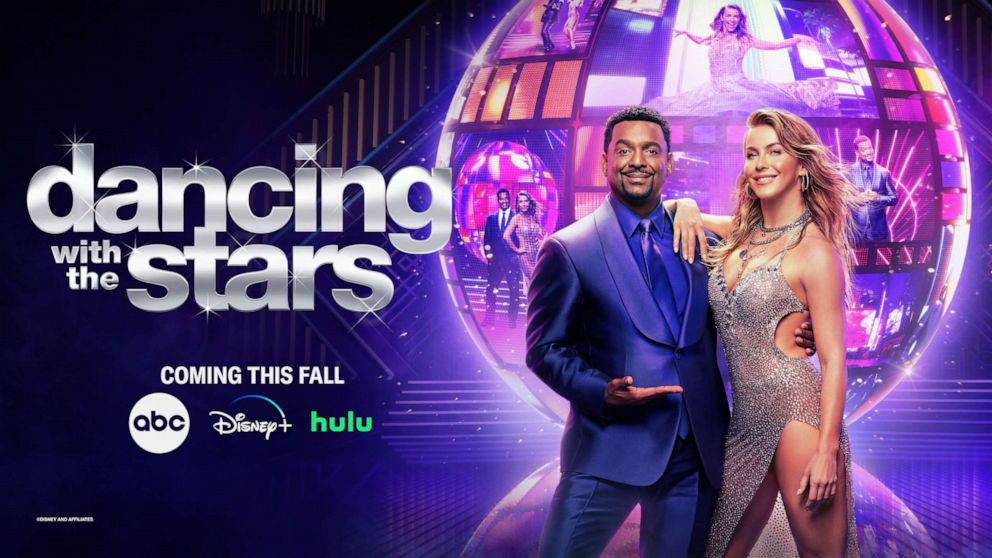 Check out the full list of celebrities competing on "DWTS" season 32 below, ahead of tonight's live premiere.
Barry Williams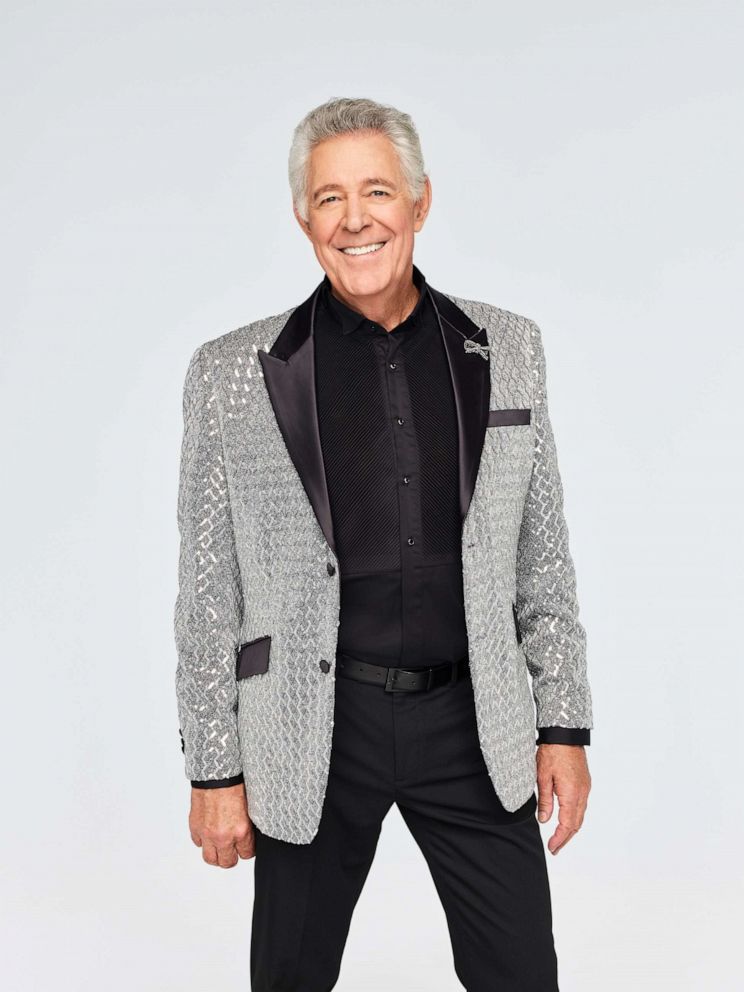 Pro Partner: Peta Murgatroyd
Barry Williams is best known for playing Greg Brady, the eldest son on the iconic sitcom "The Brady Bunch," reprising the role on various sequels and spin-offs throughout the years. In 2019, he reunited with the actors who played the other "Brady Bunch" kids for the series "A Very Brady Renovation." Williams, 68, co-wrote a 1992 autobiography titled "Growing Up Brady: I Was A Teenage Greg," and America most recently saw him last year on season 8 of "The Masked Singer," competing alongside his "Brady Bunch" brothers Christopher Knight and Mike Lookinland. He has been married to wife Tina Mahina since 2017 and is father to two children from previous relationships.
Matt Walsh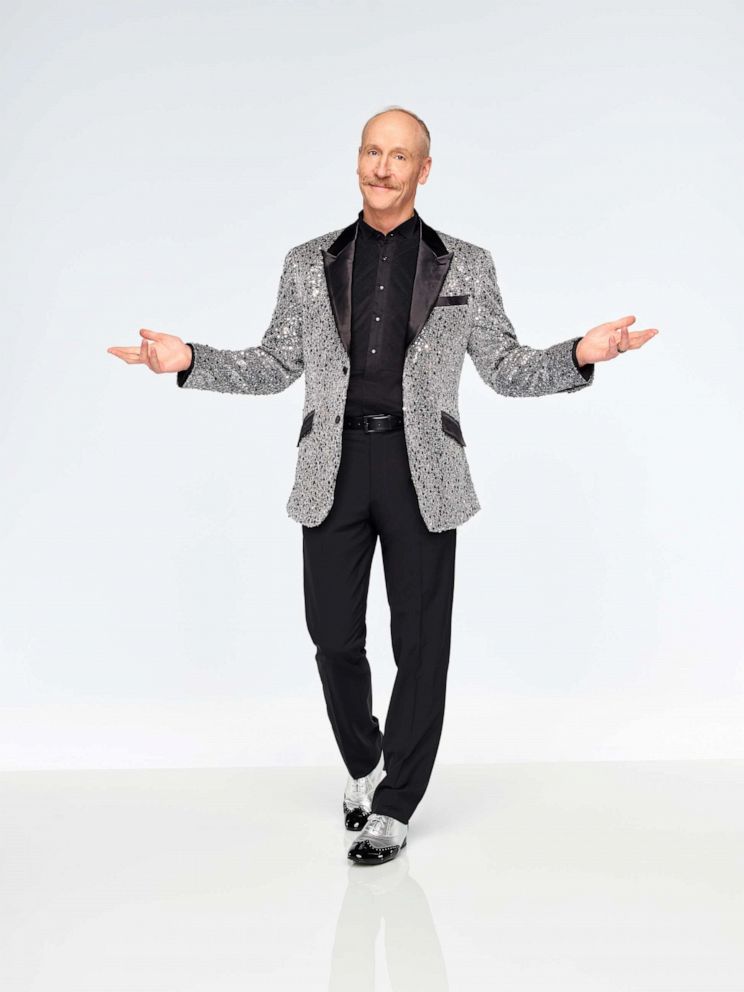 Pro Partner: Koko Iwasaki
Matt Walsh is a comedian and actor known for his role as Mike McLintock in "Veep." He's also appeared in "Ted," "Step Brothers, "Into the Storm" and "The Hangover." The 58-year-old recently appeared in the Eva Longoria-directed film, "Flamin' Hot." As Mike McLintock on "Veep," he was nominated twice for the Primetime Emmy Award for outstanding supporting actor in a comedy series, in 2016 and 2017.
Walsh said earlier this month that he got what he called a "sweet" shoutout from one of his "Veep" co-stars, Tony Hale, who told him, "We are so excited for you, man, so excited. We can't wait to see your moves. We don't know why you haven't shown them to us before, but we are ready to be surprised."
Alyson Hannigan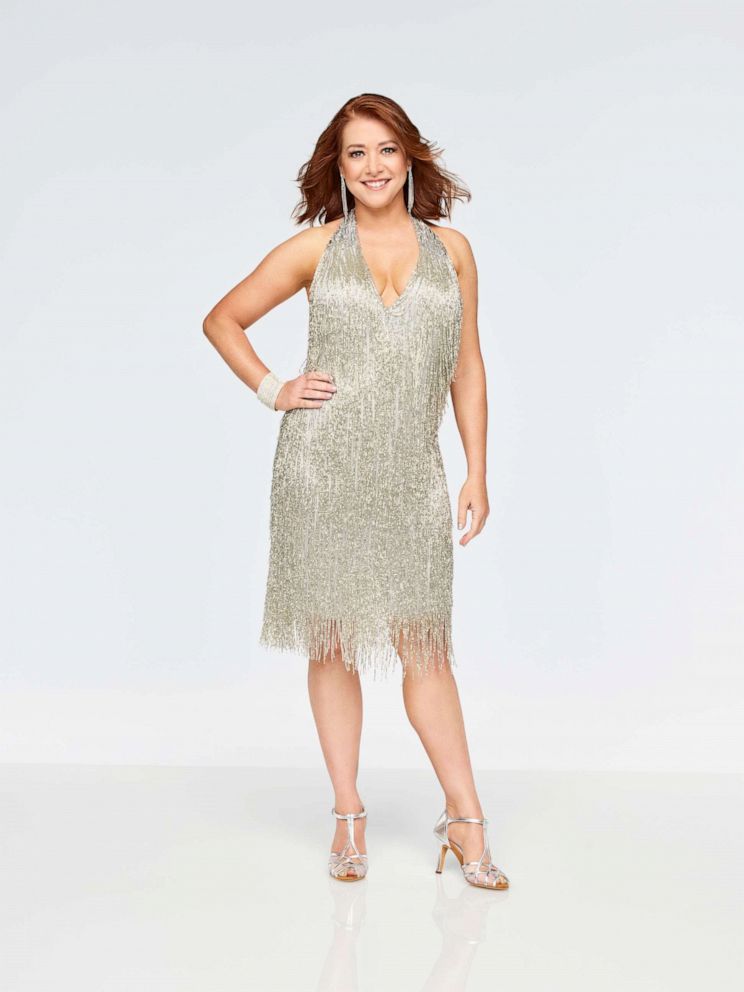 Pro Partner: Sasha Farber
Alyson Hannigan is an actress best known for her memorable television roles like the witchy Willow Rosenberg in "Buffy the Vampire Slayer" and the sweet Lily Aldrin in "How I Met Your Mother." She's also known for bringing the laughs as the flute-playing Michelle Flaherty in the "American Pie" movie franchise. Most recently, she wrapped up a seven-season gig as host of "Penn & Teller: Fool Us" and starred in the 2021 Disney+ film "Flora & Ulysses." Hannigan, 49, resides in Los Angeles with her husband of nearly 20 years, Alexis Denisof, and their two daughters Satyana and Keeva.
When asked on "GMA" earlier this month if she had told any of her former co-stars she would be competing on "DWTS," Hannigan said she took the order to keep things under wraps "very, very seriously."
"Like, I didn't even tell one of my best friends. I just texted her last night saying 'Watch "GMA" tomorrow,'" she joked at the time. "I am a rule-follower. I haven't told anyone."
Mauricio Umansky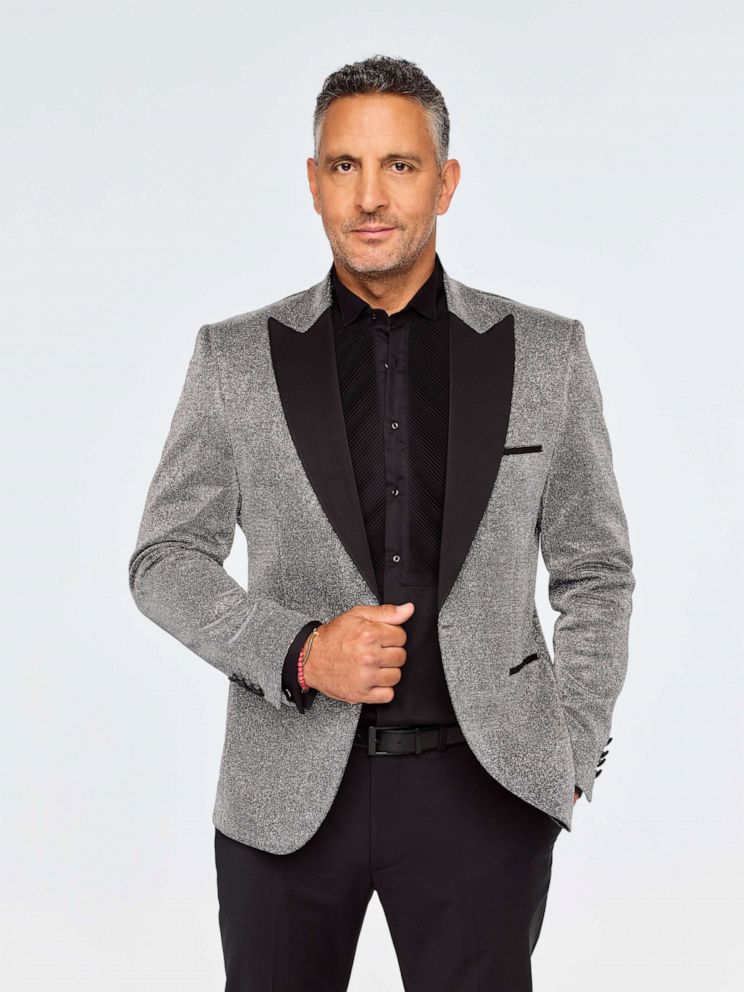 Pro Partner: Emma Slater
Mauricio Umansky is a real estate broker who has appeared on "Buying Beverly Hills" on Netflix, as well as several reality television series in the early 2000s, including "I Want to Be a Hilton" and "Newlyweds: Nick & Jessica." Many may know the 53-year-old for his marriage to "The Real Housewives of Beverly Hills" star Kyle Richards, whom he has been married to since 1996. The real estate broker and Richards share three daughters: Alexia, 27, Sophia, 23, and Portia, 15.
"We can definitely expect to see the family cheering me on," Umansky shared previously on "GMA." "We were all on our family vacation in Italy and I told them I was doing this. They were so excited. My girls, my wife -- everybody is going to be there and we're going to have a ton of fun."
Harry Jowsey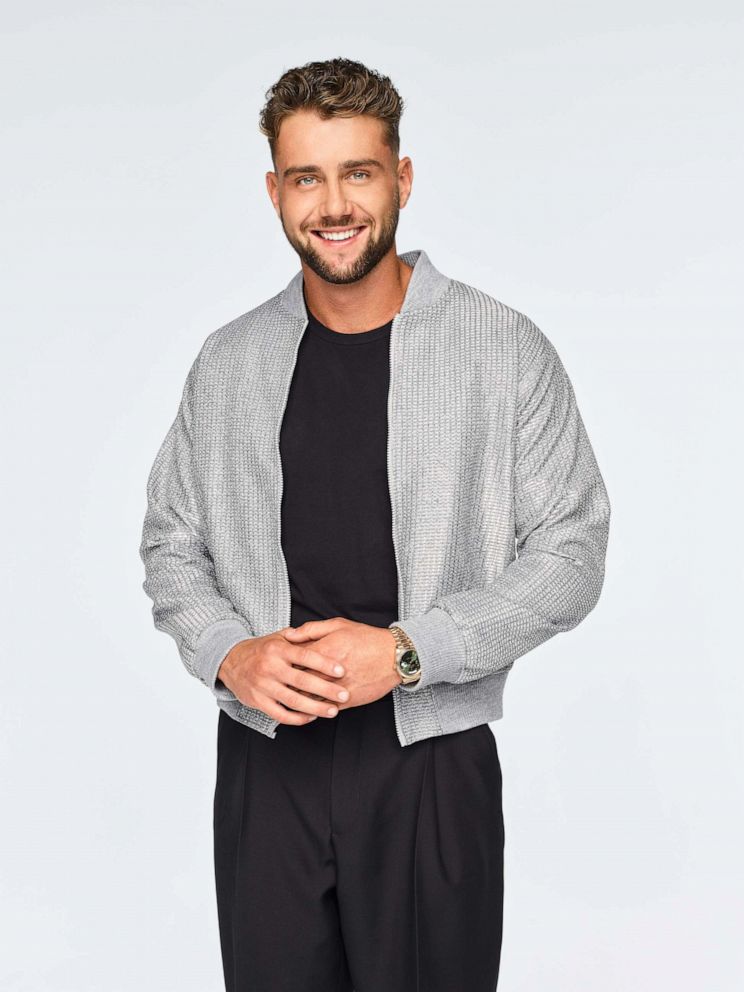 Pro Partner: Rylee Arnold
Harry Jowsey is a 26-year-old Australian reality TV star and social media personality. He rose to fame after starring in the first season of Netflix's love competition show "Too Hot to Handle" in 2020. Prior to the series he also starred on a New Zealand reality dating show, "Heartbreak Island." Since then he's amassed a large social media following, boasting over 4 million followers on Instagram and nearly 5 million on TikTok. Jowsey hosts an interactive show on Spotify, "Dating Harry Jowsey," as well as a popular podcast, "Tap In," where he discusses dating and relationships.
When asked earlier this month what the title of his first dance rehearsal would be, Jowsey joked, "'An Embarrassing Mess.' A little bit like my life."
Tyson Beckford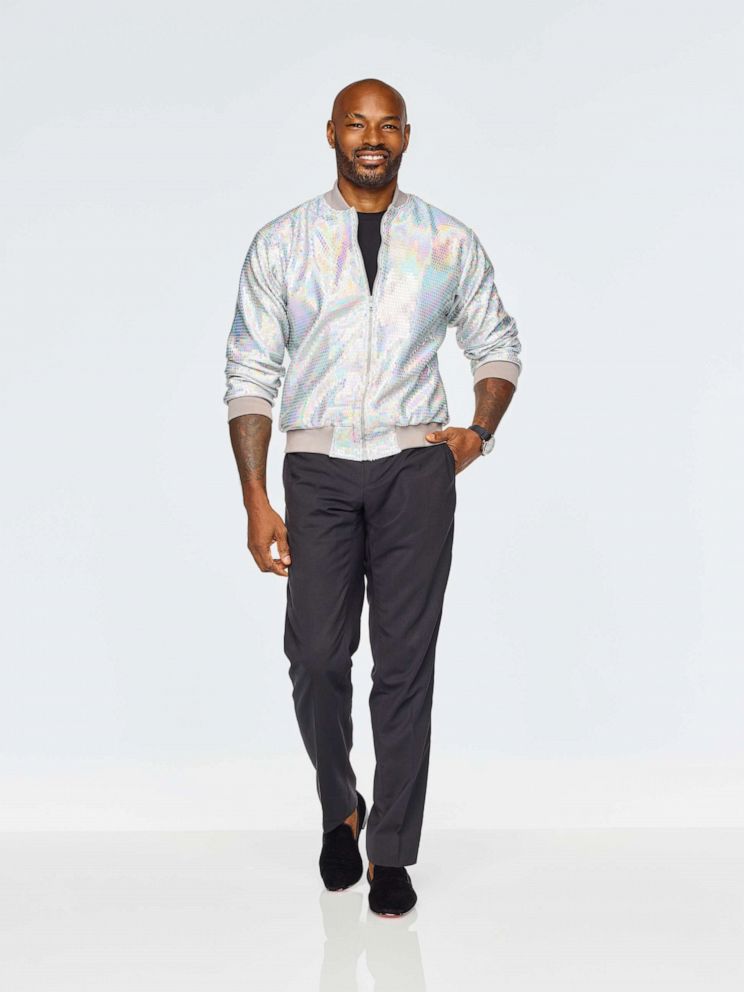 Pro Partner: Jenna Johnson
Tyson Beckford is a model and actor. The 52-year-old is known for his work as a Ralph Lauren Polo model in the 1990s. As a model, he was named as VH1's Man of the Year in 1995, as well as one of People Magazine's 50 Most Beautiful People in the World. Beckford has also appeared in many films over the years, including "Zoolander" in 2001 and "Into the Blue" in 2005. From 2008-2009, he was a judge on the reality competition show "America's Next Top Model." In those same years, he hosted "Make Me a Supermodel" on Bravo, a reality television modeling competition.
Lele Pons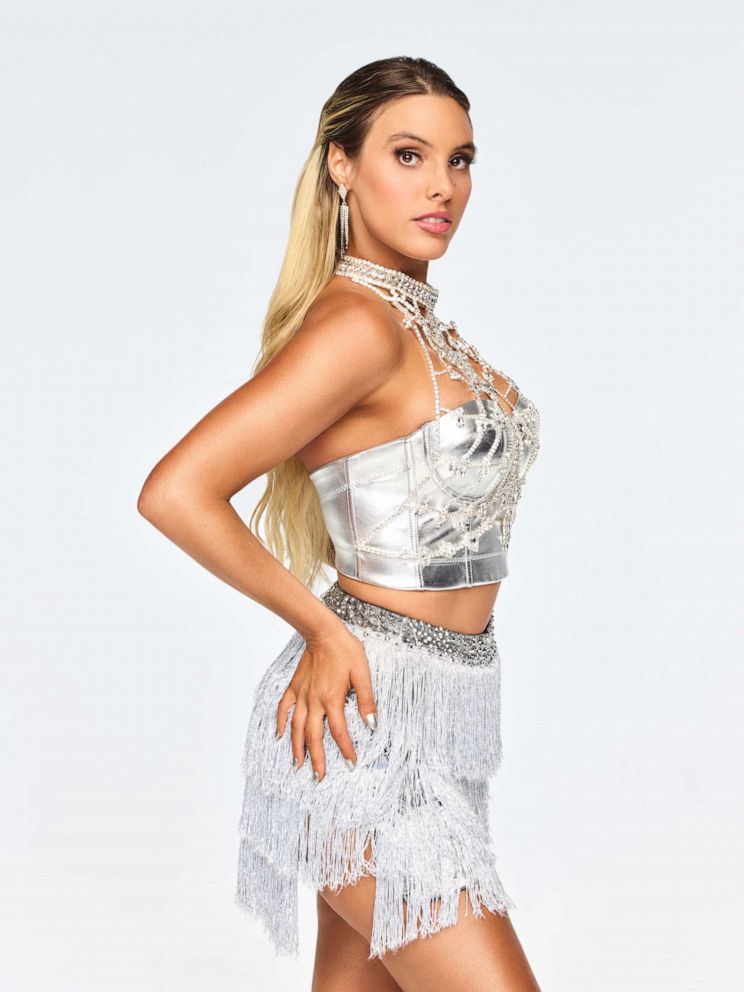 Pro Partner: Brandon Armstrong
Lele Pons is a 27-year-old Venezuelan-American social media star, YouTuber, actress and singer. She rose to fame in 2013 through the video service Vine, which officially shut down in early 2017. She was one of the most-followed personalities on the app and even became the first person on Vine to reach 1 billion loops in July 2014. Pons currently boasts over 100 million followers across her accounts on Instagram, TikTok and YouTube and regularly shares comedy sketches and other viral videos. Pons has also starred in TV and film projects, served as a presenter, and released music, including her 2018 hit "Celoso." She married Puerto Rican rapper Guaynaa in March.
Pons received a special message from pal Paris Hilton when the cast was announced earlier in September. Hilton said, "Hey Lele, I can't wait to see you on 'Dancing with the Stars.' I know you're gonna kill it. I love you, sis, and I'll see you soon."
Said Pons of how the experience had gone so far, "I have never done anything like this, so I love it -- and I'm meeting so many new friends here. It's been so much fun. I have Paris, who I support and she supports me, and I have now this family, and I'm so grateful."
Adrian Peterson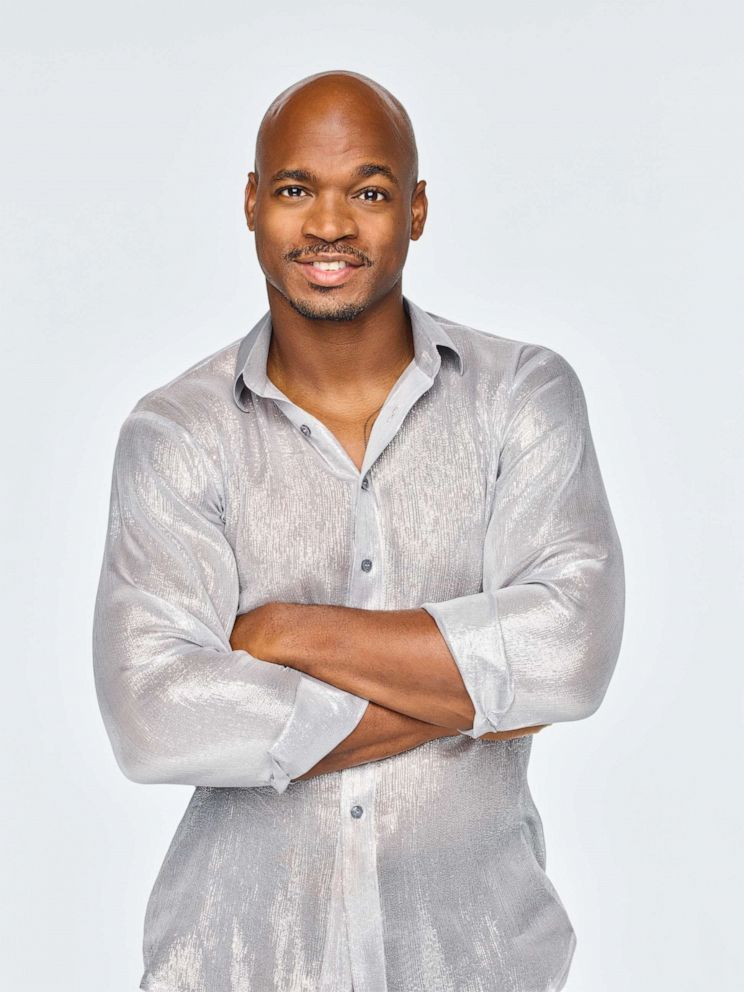 Pro Partner: Britt Stewart
Adrian Peterson is a professional football running back who first played for the University of Oklahoma, where he set the freshman rushing record during the 2004 season, before going professional. He was drafted into the NFL by the Minnesota Vikings in 2007 and stayed with the team until 2016. Since then he has played for the New Orleans Saints, the Arizona Cardinals, the Washington Redskins (now the Washington Commanders), the Detroit Lions, the Tennessee Titans and the Seattle Seahawks. He holds the NFL record for most rushing yards in a game, which he set during his rookie season. The NFL named him the league's most valuable player in 2012.
Xochitl Gomez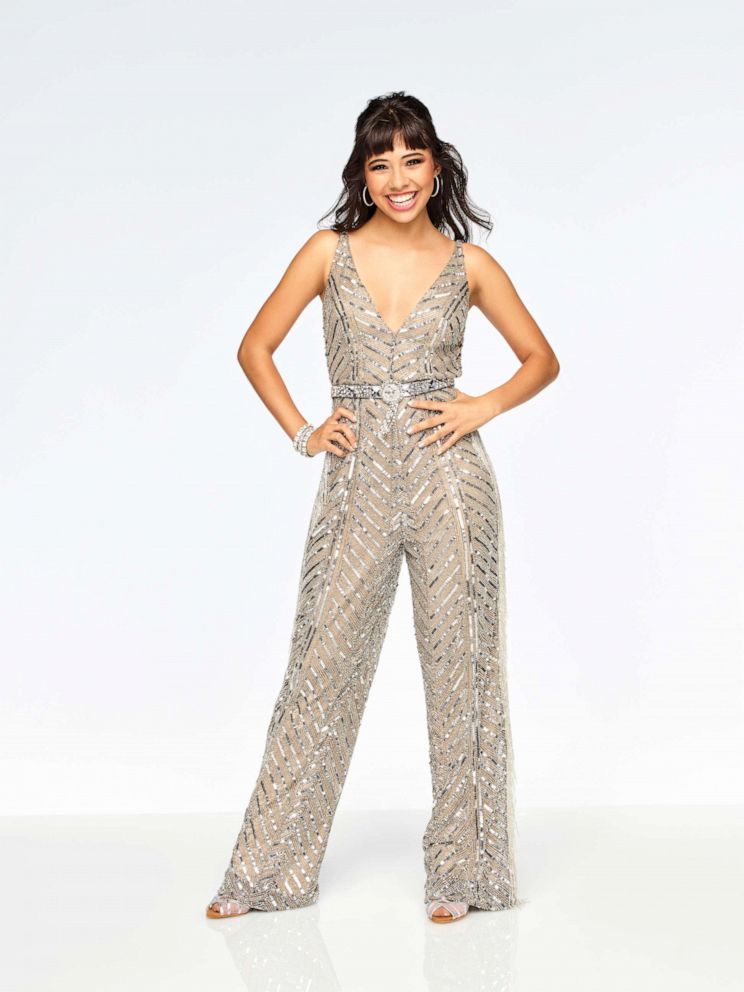 Pro Partner: Val Chmerkovskiy
Xochitl Gomez is the youngest celebrity competing on this season of "DWTS." The 17-year-old has appeared in many television shows, including the Disney Channel series "Raven's Home," "The Baby-Sitters Club" and "Gentefied" on Netflix. She also starred in the 2022 Marvel film "Doctor Strange in the Multiverse of Madness" as America Chavez. Gomez announced in August 2022 that she would be starring in upcoming sci-fi thriller "Ursa Major."
When asked earlier this month how fighting baddies in the MCU will compare to tackling choreography on the dance floor, Gomez said, "Being a superhero, it's a movie. You can do as many takes as you can."
Tonioli, without missing a beat, replied, "Not here, honey."
Mira Sorvino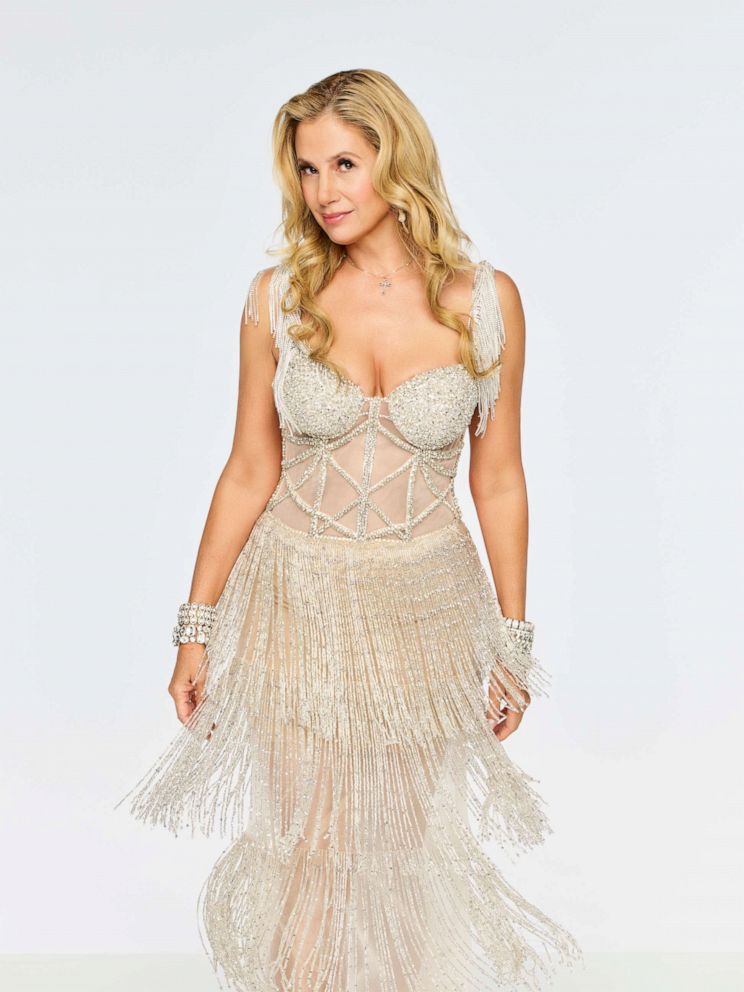 Pro Partner: Gleb Savchenko
Mira Sorvino is a Golden Globe- and Academy Award-winning actress for her role in Woody Allen's 1995 film "Mighty Aphrodite." The 55-year-old actress, who is the daughter of actor Paul Sorvino, has appeared in many other films and television shows across her illustrious career, including "The Replacement Killers" in 1998 and "Norma Jean & Marilyn" in 1996, in which she portrayed Marilyn Monroe. Sorvino is most known for playing Romy in the 1997 comedy, "Romy & Michele's High School Reunion," alongside Lisa Kudrow. Outside of film and television, Sorvino is an activist who has previously lobbied Congress to abolish human trafficking in Darfur. She was named a United Nations Goodwill Ambassador for her work in the global fight against human trafficking from 2009 to 2012.
When asked previously on "GMA" what her "Romy & Michele's High School Reunion" co-star and bestie Kudrow would say about her joining "DWTS," Sorvino responded, "That I was very brave."
Jason Mraz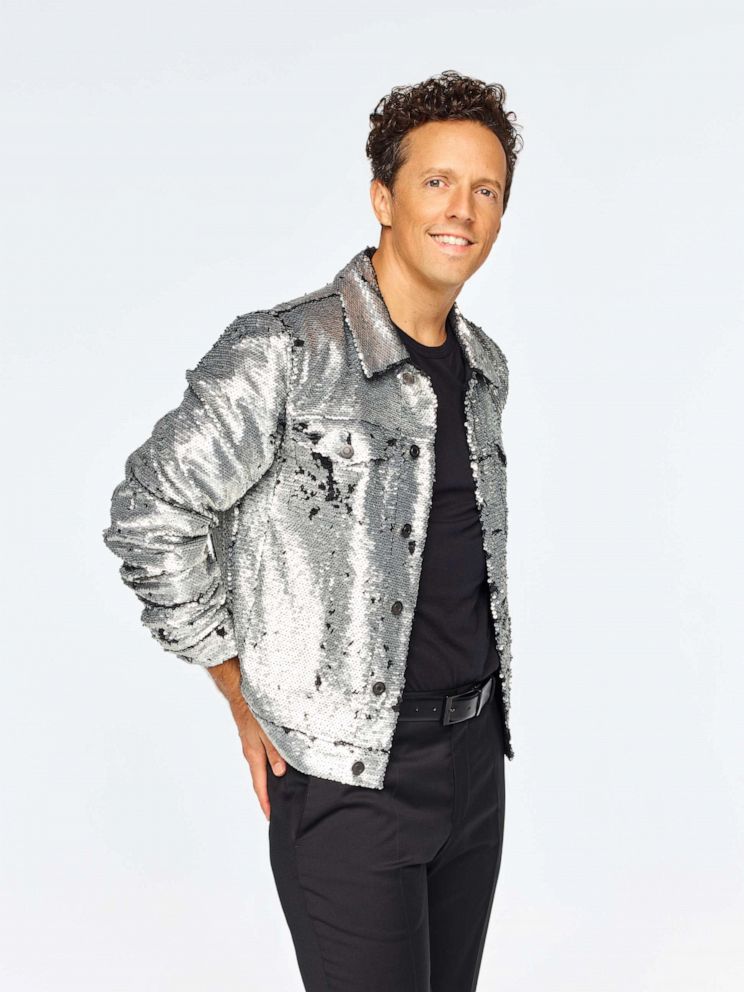 Pro Partner: Daniella Karagach
Jason Mraz is a Grammy-winning singer-songwriter, known for his long list of chart-topping hits, including "I'm Yours," "Lucky," "I Won't Give Up" and more. Throughout his career he's released eight studio albums, with his latest album, "Mystical Magical Rhythmical Radical Ride," arriving in June. Mraz's biggest hit, "I'm Yours" was released in 2008 on his third studio album, "We Sing. We Dance. We Steal Things." The song spent 76 weeks on the Billboard Hot 100 chart and was nominated for two awards at the 51st Grammy Awards in 2009. Mraz, 46, didn't take home his first two Grammy Awards until the next year, when he won for his hit song "Make It Mine," and his collaboration with Colbie Caillat, "Lucky." The singer created the Jason Mraz Foundation in 2011 to support inclusive arts education.
The "I Feel Like Dancing" singer couldn't contain his excitement over joining the "DWTS" cast, sharing earlier this month, "I'm so happy to be here. This is such a thrill."
Jamie Lynn Spears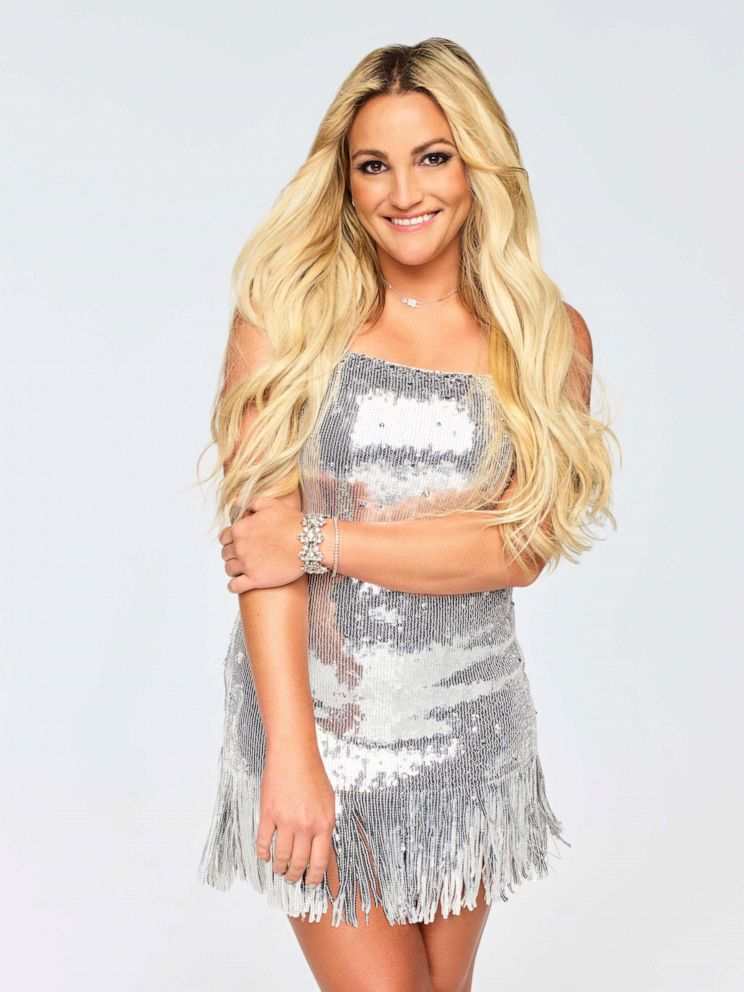 Pro Partner: Alan Bersten
Jamie Lynn Spears is best known for playing the title character Zoey Brooks on the teen sitcom "Zoey 101," reprising the role in the sequel film, "Zoey 102," released earlier this year. Spears, 32, made her acting debut in 2002 when she appeared in the film "Crossroads" alongside her pop star sister, Britney Spears, and followed that up the same year on the sketch comedy series "All That." She released an EP in 2014 titled "The Journey," which included the song "How Could I Want More," and sang on her sister's song "Chillin' with You," off her 2013 album, "Britney Jean." Spears currently stars on the series "Sweet Magnolias," which aired its third season this year, and released her memoir titled "Things I Should Have Said" last year. She has been married to husband Jamie Watson since 2014 and is mom to daughters Maddie, from a previous relationship, and Ivey, with Watson.
When asked who her biggest competition is this season, Spears gave a surprising answer: herself.
"I'm a fan of everyone here and it's just inspiring to get a chance to dance with all of them," she told "GMA" previously. "I'm probably my biggest enemy when it comes to this competition … so I just think if I can get out of my own head and just enjoy the experience with everyone here then that will be a win for me."
Charity Lawson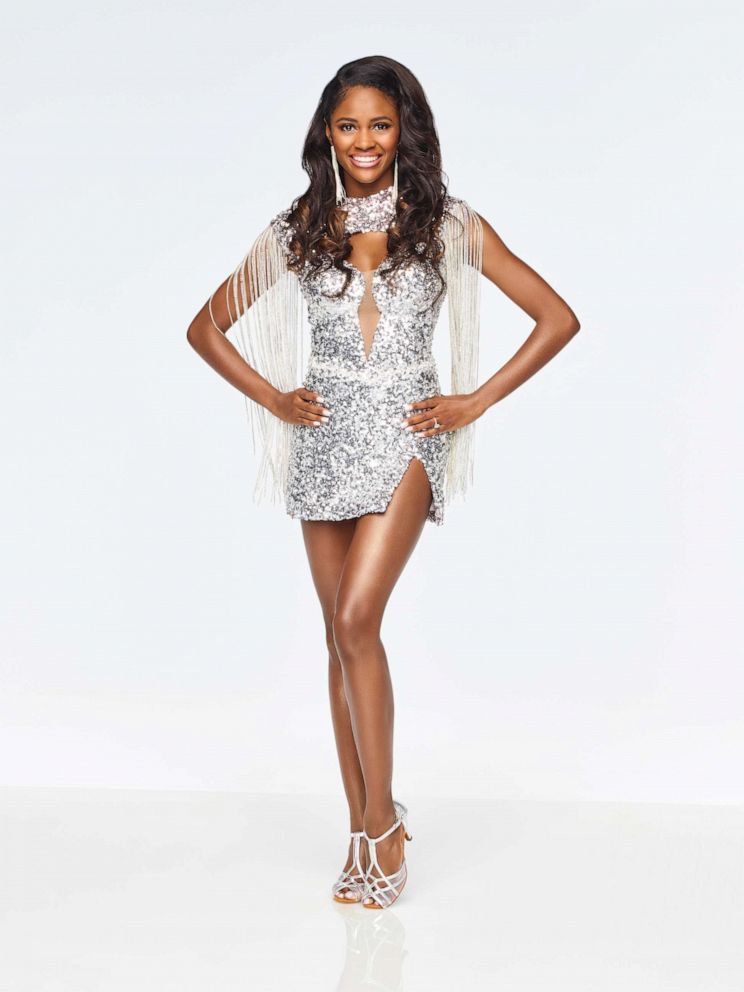 Pro Partner: Artem Chigvintsev
Charity Lawson was the lead for season 20 of "The Bachelorette." The 27-year-old child and family therapist from Columbus, Georgia, ended her whirlwind journey for love with an engagement to Dotun Olubeko. During the live finale, which aired last month, Lawson was surprised by Olubeko with the news that she would be joining season 32 of "Dancing with the Stars." Olubeko said that the couple has previously spoken about "how amazing this opportunity would be" for Lawson. Prior to "The Bachelorette," Lawson competed for Zach Shallcross' heart on season 27 of "The Bachelor."
Given that three former "Bachelorette" stars have won the Mirrorball Trophy, Lawson has big heels to fill. When asked if she got any advice from her Bachelor Nation pals, she joked, "They give better dance advice than dating advice. No shade."
"Honestly, there's a little bit of pressure," she added. "But I'm here to have fun and really challenge myself."
Ariana Madix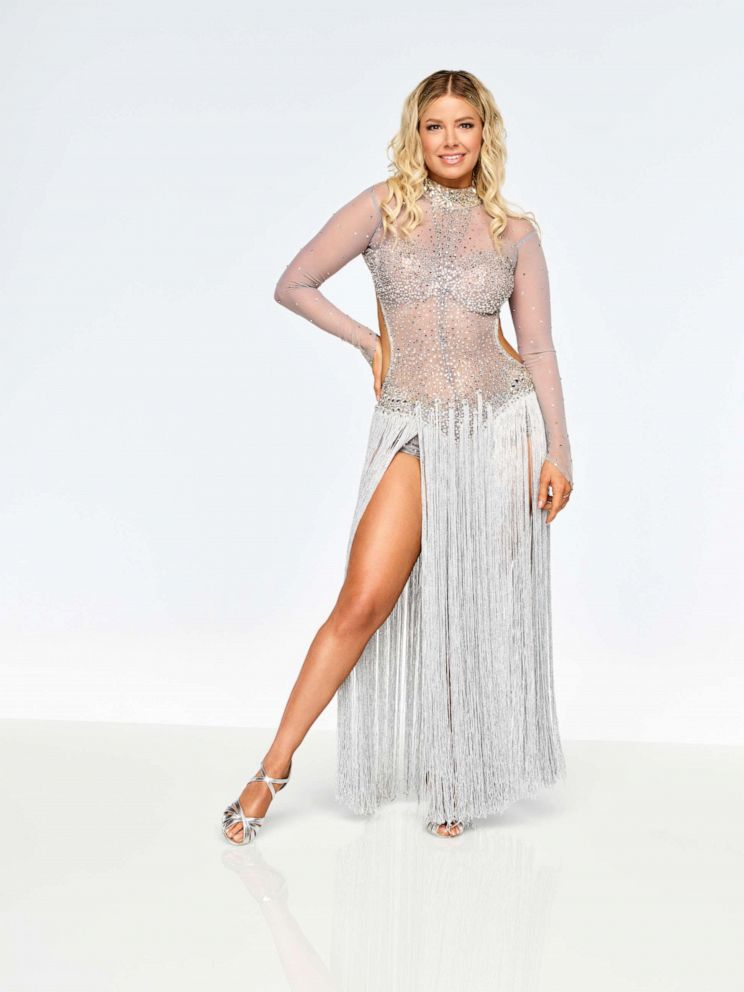 Pro Partner: Pasha Pashkov
Ariana Madix is best known for starring on the reality series "Vanderpump Rules." During the show's 10th season, which aired earlier this year, Madix's boyfriend of nearly a decade, Tom Sandoval, cheated on her with a fellow cast member Raquel Leviss, in what has been dubbed "Scandoval." As an actress, she has appeared in sitcoms like "Dads" and "Anger Management" and will star in the Lifetime movie "Buying Back My Daughter" later this year. Madix, 38, co-authored a cocktail book titled "Fancy AF Cocktails: Drink Recipes from a Couple of Professional Drinkers" with Sandoval in 2019 and is launching a sandwich shop, Something About Her, with "Vanderpump Rules" co-star Katie Maloney.
Madix's plan to conquer the ballroom? "If I get any harsh critiques, turn the negatives into positives," she said the day the cast was revealed.
See the 'Dancing with the Stars' season 32 celebrity and pro pairs!
Barry Williams and Peta Murgatroyd will compete on "Dancing with the Stars."