'Happiness Falls' by Angie Kim is 'GMA' Book Club pick for September
ABC News Photo Illustration / Bookshop.org
Zibby Owens is the author of "Bookends: A Memoir of Love, Loss, and Literature" and the upcoming novel "Blank." Owner of Zibby's Bookshop in Santa Monica, she is also the CEO of Zibby Media which includes the publishing house Zibby Books, retreats, classes, and Zibby Mag. She hosts the daily author interview podcast Moms Don't Have Time to Read Books. Follow her on Instagram.
Back to school, back to reality. Summer reading might officially be over until 2024, but that doesn't mean we all need to stop reading. As children around the world return to their desks and spin their locker combinations, grown-ups can take a page out of their backpacks and assign themselves some of these utterly fabulous, engrossing, educational and emotional titles coming out this month. From World War I steamships to British baby showers and the "Friends" writers room, this selection of books will entertain all types of voracious readers.
Summer's over? So what!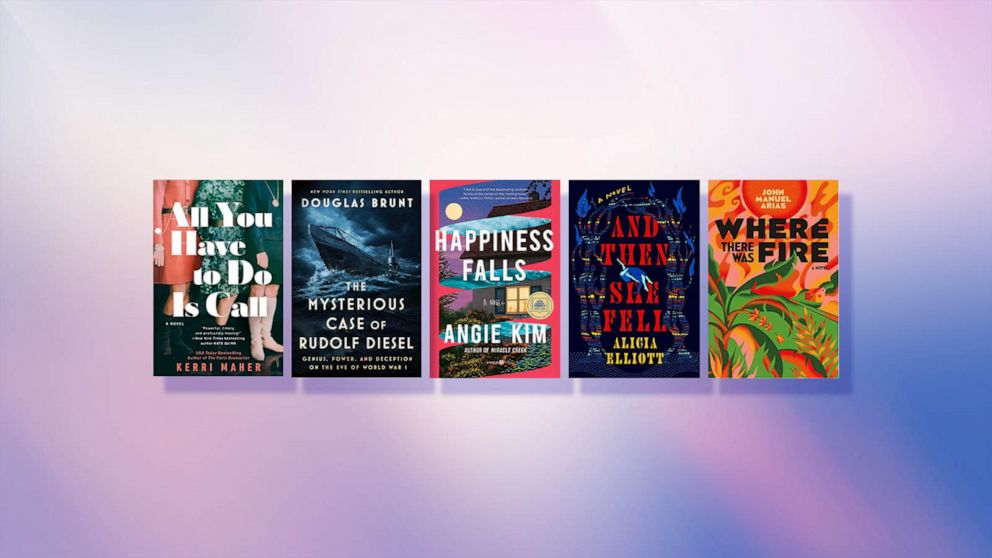 A biracial Korean American family reels after 20-year-old Mia's father goes missing on a hike with Mia's brother Eugene, who has autism. When Eugene returns home bloody and alone, he's the only clue to what happened -- but his Angelman syndrome, a genetic condition, means he can't speak. A ticking clock investigation follows with riveting secrets and shocking twists. Love, language and human connections mix in this family drama by the award-winning author of "Miracle Creek," Angie Kim. A perfect read-before-bed story about a family who must learn to communicate, even when words fail.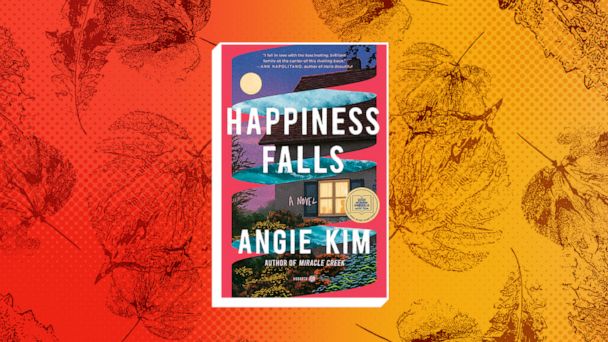 ABC News Photo Illustration, Hogarth, Nina Subin
"Happiness Falls" by Angie Kim
When a father goes missing, his family's desperate search leads them to question everything they know about him and one another in this thrilling page-turner, a deeply moving portrait of a family in crisis from the award-winning author of "Miracle Creek."
"Where There Was Fire" by John Manuel Arias
When poets write novels, you just know they'll be good ones. Poet John Manuel Arias starts his novel in 1968 with a family tragedy: The matriarch of a Costa Rican family is murdered by her son-in-law, who then disappears. The banana plantation where he worked goes up in flames, causing mass casualties. Fast forward 27 years. Teresa, who saw the murder, and her daughter have to make sense of the whole thing in a story which John Manuel Arias says is really a love letter to his own grandmother.
"The Mysterious Case of Rudolf Diesel" by Douglas Brunt
The author of "Trophy Son," "The Means," and "Ghosts of Manhattan" returns with his latest non-fiction narrative centered around one of the world's greatest inventors, who disappeared while on a steamship from Belgium to England on the eve of World War I. What really happened to Rudolf Diesel? The truth only now comes out in this deep dive into history, innovation and war, with powerful men like John D. Rockefeller and Kaiser Wilhelm II. It ends with a shocking conclusion.
"I Wasn't Supposed to Be Here: Finding My Voice, Finding My People, Finding My Why" by Jonathan Conyers
Jonathan Conyers and his transgender high school debate coach K.M. DiColandrea ("DiCo") were featured in a Humans of New York post which ended up raising more than a million dollars for the high school debate team. In his memoir, Conyers shares details of his childhood spent living in shelters or crammed in with relatives away from his drug-addicted parents. He highlights the cast of characters who helped him survive along the way. Now a respiratory therapist at NYU Langone Hospital and host of The Professional Winner podcast, Conyers can't help but inspire and uplift.
"And Then She Fell" by Alicia Elliott
Alicia Elliott's debut novel "And Then She Fell" is a daring, dark exploration of motherhood, mental health and identity following the story of a young Haudenosaunee mother. Alice lives in a wealthy, white Toronto suburb after growing up on a reservation when she begins to have increasingly strange encounters and finds herself losing segments of time. She starts to question everything and everyone, including her husband Steve, a white academic. Alice's ideal-seeming life unravels on the heels of new motherhood. Her goal of writing a modern retelling of the Haudenosaunee creation story gets derailed by her mental health and yet, finishing the book seems curiously life-saving. An investigation into inherited trauma and womanhood, this voice-centered novel packs quite a punch.
"A House for Alice" by Diana Evans
Author of the critically acclaimed novel "Ordinary People", Diana Evans has now crafted a beautiful, deep exploration of home and fractured families. Already long-listed for the Orwell Prize, "A House for Alice" starts in 2007 during a high-rise fire in West London. At the same time, in another part of London, Cornelius Winston Pitt dies alone from a cigarette fire in his apartment. Alice, the wife, now wants to live out the rest of her life in Nigeria, but her three daughters aren't so sure. Grief, betrayal, secrets and siblings mix in this intimate examination of the inner workings of a family.
"Coleman Hill" by Kim Coleman Foote
Kim Coleman Foote calls "Coleman Hill" a "biomythography," a mix of fact, fiction and myth that centers around two families -- her own and another -- whose matriarchs, Celia and Lucy, migrated from the post-Civil War South to New Jersey. Within years of arriving, their husbands were dead and the two women's families became intertwined… only to have an act of impropriety in the next generation tear them apart years later. Sarah Jessica Parker's imprint at Zando is publishing this emotional, evocative work, fulfilling Foote's decision at age 7 to become a writer.
"Bright Young Women" by Jessica Knoll
Author of the bestselling novel and Netflix film "Luckiest Girl Alive," Jessica Knoll is back with a thriller set in 1978, just before a murderer descends on a Florida sorority house, changing -- or ending -- the lives of everyone inside, including the sorority president. Across the country, Tina Cannon is determined to find out if her own missing friend was targeted by the same "All-American Sex Killer." The two join forces to invoke justice. "Bright Young Women" is fast-paced, nail-biting and original, something that bright, young women everywhere must read.
"End Credits: How I Broke Up with Hollywood" by Patty Lin
Debut memoirist Patty Lin is no stranger to the blank page, having written for countless TV shows including "Friends," "Freaks and Geeks," "Desperate Housewives," and others. In "End Credits," Lin shares the downside of writers room culture, especially as the only woman, certainly the only Asian American woman, in the room. While inside-Hollywood, yes, "End Credits" also paints a complex portrait of finding love, pleasing parents, navigating uncertainty and ultimately finding one's true voice. Funny, smart and memorable, "End Credits" is a Hollywood story perfect for the strike-filled, news-centered entertainment landscape of today.
"All You Have To Do is Call" by Kerri Maher
In "All You Have To Do is Call," historical novelist Kerri Maher writes about The Jane Collective, an underground women's group in Chicago that helped women obtain safe abortions prior to Roe v. Wade. Three women's lives intersect in this powerful, thought-provoking novel. Founder Veronica has a high-risk pregnancy as a housewife, Margaret volunteers while serving as a professor at the University of Chicago, and Patty reels when her runaway sister unexpectedly reappears. With Jane's opponents threatening to shut the group down, the three must come together for the sake of all Chicago-area women. Told in gripping prose with minute-by-minute scenes of young women contending with their abortions, "All You Have To Do is Call" is not only important and timely, but deeply humanizing.
"The Wake Up Call" by Beth O'Leary
The Forest Manor Hotel is falling apart in "The Wake Up Call," Beth O'Leary's latest novel. When Izzy and Lucas are assigned the same shift at the front desk, they have to just accept it. Although they both fear the hotel will likely sink post-Christmas, Izzy changes everything when she returns a guest's lost wedding ring and reaps a reward. Can finding the rightful owners of the other four rings in the lost and found be the ticket to save their jobs -- and the hotel? And will their hearts make it through as their relationship takes a turn? This delicious rom-com will please even the most jaded readers.
"Confessions of a 40-Something F**k Up" by Alexandra Potter
I couldn't put down this hilarious, witty, conversational novel. I didn't even know that it was the inspiration for ABC's comedy, "Not Dead Yet." The book is fantastic. Protagonist Nell is a mess. She returns to London with a broken engagement and no job to a life filled with contemporaries all thriving around her. Even her old best friend has replaced her with a perfect new bestie who always manages to make Nell feel less-than. Rooming with a stranger who insists on keeping the flat freezing cold to save energy and working as an obituary writer, Nell is feeling pretty low until she teams up with the 80-something widow of her first obit subject. When Nell decides to start a podcast, things begin to turn around. A fresh new voice, Alexandra Potter's Nell is reminiscent of Bridget Jones if things had really taken a turn for the worse. For anyone who looks at Instagram and feels inferior in any way, this novel will hit home.
"Recipe for Second Chances" by Ali Rosen
Host of "Potluck with Ali Rosen" and James Beard Award-nominated writer Ali Rosen writes about protagonist Stella Park, who is elated to celebrate her best friend's wedding in the Italian countryside. It's just the escape she needs from her own personal and professional life -- it's surprisingly hard writing recipes for a living. But when Stella runs into the ex she hasn't seen since she broke his heart 10 years ago, Samuel Gordon, she begins to second guess all her decisions. Filled with amazing food, Indian and Italian wedding traditions, and unplanned detours in gorgeous locales, "Recipe for Second Chances" will whet the reader's appetite for rom-coms, story and the sensory.
"Evil Eye" by Etaf Rum
Etaf Rum's first novel, "A Woman Is No Man," was a New York Times bestseller. "Evil Eye" now examines the expectations placed on the daughter of immigrants in race-conscious America. Protagonist Yara is from a conservative Palestinian community in Brooklyn but moved to the South for school and then to teach art at a local college. Newly married, her new mother-in-law wants her to focus most on being a wife and mother. Yara seeks refuge at work, but when she accuses a colleague of racism, she gets placed on probation and even work is gone. Was it the family curse? Etaf based some of "Evil Eye" on her own upbringing and family traditions. In addition to writing, Etaf owns the Rocky Mount, North Carolina, bookstore and coffee shop Books and Beans, where many guests will surely devour this provocative, compelling, lyrical read.
"Sing a Black Girl's Song: The Unpublished Work of Ntozake Shange" by Ntozake Shange, edited by Imani Perry
What a fabulous treasure trove of insights into Ntozake Shange's soul. Not only does "Sing a Black Girl's Song" -- the previously unpublished poems, essays, and plays of Ntozake Shange -- show us who Ntozke was, how she grew up, and, in the short essay "Coming of Age as a Writer", who her influences were, it also sheds a unique light on Black womanhood, creativity, and joy. For readers and theatergoers who know her mainly from the 1975 play "for colored girls who have considered suicide / when the rainbow is enuf," this book provides an intoxicating slice of life to make anyone a lifelong fan. Take this poetic passage: "There is a memory of the wish-swishing of skirts, the smells of powders and coffee, my father's cologne seeps from her skin and the pillow I nestle my head, my whole body curved again as in the beginning. I am the only one. This is my mother, Eloise, who married Paul who was my father and that's how she became my mother." Beautiful. Just like her.