'Family Lore' by Elizabeth Acevedo is August's 'GMA' Book Club pick
Zibby Owens is the author of "Bookends: A Memoir of Love, Loss, and Literature", and the upcoming novel "Blank." Owner of the indie bookstore Zibby's Bookshop, Zibby is also CEO of Zibby Media, which includes a publishing house and retreats. She is the podcast host of daily award-winning author interview show "Moms Don't Have Time to Read Books".
There's no better time to dive into something new than the last few weeks of summer.
Yes, it's hot. And when it's just too hot to do anything else (117 degrees, Phoenix?!), books will be there waiting for you. Especially these new ones that I'm most excited about.
Try sitting alone at a cool cafe with one of these great novels or memoirs, a chilled glass of something you love beside you.
You'll see reading just makes everything better.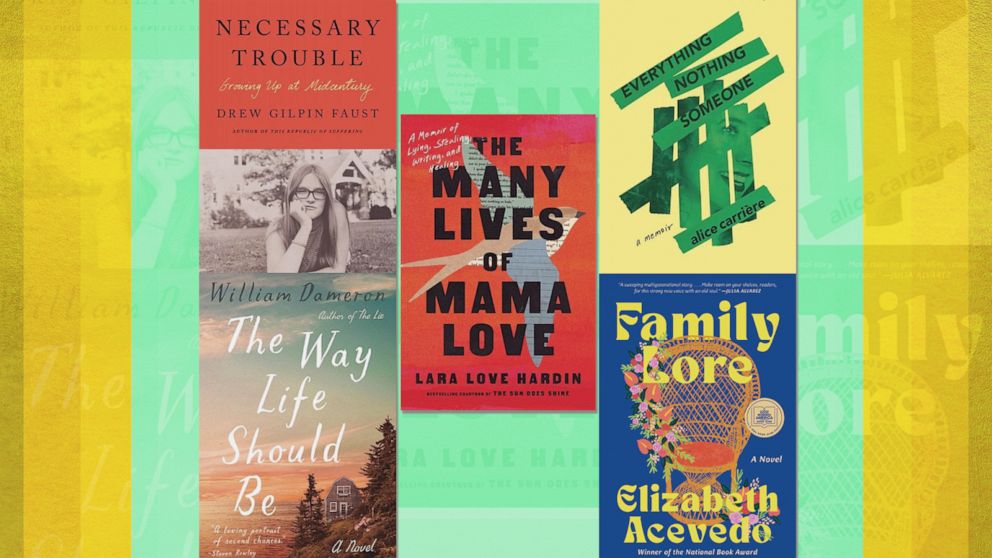 National Book Award-winning author of the bestselling novel "The Poet X," Elizabeth Acevedo has now written her first -- triumphant -- novel for adults about a Dominican American family awaiting a fateful gathering. Flor can predict the day someone will die, so she gathers her own family for her own wake. Her sisters all have something to hide. Told over three days, this fabulous novel will captivate, delight, instruct and move.
'Family Lore' by Elizabeth Acevedo
From the bestselling, National Book Award-winning author Elizabeth Acevedo comes her first novel for adults, the story of one Dominican-American family told through the voices of its women as they await a gathering that will forever change their lives.
Valid: Invalid date to Invalid date
'Everything/Nothing/Someone: A Memoir' by Alice Carriere
Dani Shapiro calls Alice's book "a master class in memoir," which it is. I was taken in immediately by this coming-of-age, coming-of-mental illness story about the daughter of revered artist Jennifer Bartlett. A childhood of privilege in an always full but often emotionally empty Greenwich Village home sets Alice off on a course to dissociative disorder ensnared in treatments that lead to psychosis, only to recover in time to tend to her mother's dementia and fall in love herself. Alice, bubbly, friendly and an open book, is the best friend you always wanted.
'The Way Life Should Be: A Novel' by William Dameron
I fell in literary love with Bill Dameron after reading his captivating, relatable and emotional memoir, "The Lie: A Memoir of Two Marriages, Catfishing and Coming Out." I couldn't wait to get my hands on his debut novel about two fathers setting off on the second half of life having recently come out to their ex-wives. Set during one summer on the coast of Maine, this memorable novel will make you think and feel.
'Necessary Trouble: Growing Up at Midcentury' by Drew Gilpin Faust
The former president of Harvard University, Drew Gilpin Faust, oozes brilliance. Her book is like a history of America with a feminist bent. We watch Drew grow from being a young woman writing activist letters to those in power -- even to a former president -- to running one of the most esteemed institutions in the world. We see the effects of her own education, her deep involvement in the country's civil rights movement and how her own trajectory has been shaped by the country's as a whole. It's a fascinating read.
'The Many Lives of Mama Love: A Memoir' by Lara Love Hardin
Lara Love Hardin was arrested while at home one afternoon with her youngest son. Deep into an addiction that led to crime, Hardin looked like all the other moms on the block but was struggling in epic ways. This is her story of how she hit bottom and, with the fierceness of her love for her kids pulling her forward, navigated her post-prison life. It's a look at how hard it is to rebound after being convicted and an encouraging story about the possibility of change, fueled by love.
'Happiness Falls: A Novel' by Angie Kim
Stanford University and Harvard Law School grad Angie Kim moved to the U.S. from Seoul, South Korea, as a pre-teen and went on to write an award-winning first novel, "Miracle Creek," now followed by the much-anticipated "Happiness Falls." A gifted writer, Kim has crafted a goosebump-inducing story about Mia, a 20-year-old in a biracial Korean American family that is turned upside down when the father disappears. The only witness appears to be her brother who suffers from Angelman syndrome and can't speak. A mystery and family drama, "Happiness Falls" is the whole package.
'Lush Lives: A Novel' by J. Vanessa Lyon
The second release from Roxane Gay Books, "Lush Lives" is a look at queer love, art and history itself. Kicking off in a high-end auction house, the story follows Glory Hopkins, an aspiring artist who is trying to sell her aunt's Harlem brownstone's belongings to Parkie de Groot at the auction house. As they search together for a missing manuscript, their relationship takes a turn and reveals all the ways art can really shape us.
'Unearthing: A Story of Tangled Love and Family Secrets' by Kyo Maclear
One of the family secrets in Kyo Maclear's masterful, original and poetic memoir involves one of the most famous women in the world, but you'll have to read to find out. To be honest, that part is almost beside the point. As Kyo slowly realizes that the father she's mourning isn't actually her father, she unearths truths she never saw coming. A mix of literary tactics like repetition and short form sections, this unique, powerful and captivating memoir mixed with gardening and plant life, is truly a wow.
'The Continental Affair' by Christine Mangan
This already feels like a movie: a story about Louise, a thief from England on the move across Europe, and Henri, the Algerian former criminal tasked with finding her. From Paris and Istanbul to Granada and Paris, this novel set in the 1960s is hold-your-breath plotted and elegantly rendered. Plus, I absolutely loved Christine's book set in Venice, "Palace of the Drowned," and have recommended it a zillion times.
'The Heaven and Earth Grocery Store: A Novel' by James McBride
In the early 1970s, while excavating a well in the Chicken Hill neighborhood of Pennsylvania, workers on a new development uncovered a skeleton. An area where African Americans lived side-by-side with Jewish immigrants, Chicken Hill is as much a character as theater and grocery store owners Moshe and Chona Ludlow and Nate Tamblin, the theater janitor. When the state comes looking for a neighborhood deaf boy to institutionalize him, the community rallies to keep him safe in another masterful work by New York Times bestselling author of "The Color of Water," one of my favorite memoirs.
'Pulling the Chariot of the Sun: A Memoir of a Kidnapping' by Shane McCrae
Award-winning poet Shane McCrae was kidnapped. His grandparents stole him from his white mother and Black father, absconded with him to Texas and hid his Blackness. Over time, Shane grew to understand what happened and set off to find his father and the real story of his life. Written in lush prose with paragraphs you want to swim in, this disturbing, inspiring read will transfix the busiest reader and make everyone contemplate one's own family and its context in the country at large.
'Tom Lake: A Novel' by Ann Patchett
Who doesn't love Ann Patchett? Her writing -- crisp, perfect, evocative -- is as inviting as sitting in the kitchen table at your oldest friend's house. The way she writes about family, daughters and love in her latest novel, "Tom Lake," is classic Ann Patchett. Wise. Beautiful. With an elegant soft touch. Set in the spring of 2020, Lara tells her three grown daughters about her past as they gather in Northern Michigan, especially about her time at a theater company. Brilliant, of course.
'Never Enough: When Achievement Culture Becomes Toxic and What We Can Do About It' by Jennifer Breheny Wallace
Just stop reading this and order a copy. If you are a parent, a caregiver or anyone who loves a child out there in the world, this is for you. Likewise, if you are the child who has been caught up in today's toxic achievement culture, this is the rehab you need. Packed with anecdotes from parents who Wallace interviewed, overflowing with information and laced with personal stories, "Never Enough" could truly change family life as we know it. For anyone who has ever felt like they had to enroll a child in travel soccer, this is for you. Wallace has started The Mattering Movement, an outgrowth of the book, to help kids and parents navigate the world today and approach it differently. The book is a paradigm shift of utmost importance and an entertaining read to boot.
'The Rye Bread Marriage: How I Found Happiness with a Partner I'll Never Understand' by Michaele Weissman
I loved this book; it's one of the most real, honest, funny and at times heartbreaking stories about what it's like to be in a long-term marriage. Michaele (her parents wanted a son, hence the 'e') marries a Latvian man named John who is obsessed with rye bread -- so much that he eventually starts an import company around it. But it isn't just him, rye bread symbolizes so much more -- home, culture, displacement and love. John being bipolar is almost a footnote in the ups and downs of their marriage. I feel privileged to have been let into the mundane fights, the moments where it seemed their relationship couldn't be repaired -- but then was, and the intimate times mixed with a cultural analysis of Latvia. I laughed out loud.
'Wine People: A Novel' by Michelle Wildgen
The August title from my own publishing house, Zibby Books, beloved food and wine writer Michelle Wildgen, former editor of Tin House, has crafted an intoxicating look into the wine business when two colleagues, Wren and Thessaly, navigate the bounds of friendship, ambition and power. Set in wine rooms in France, Germany, the Midwest and Sonoma, "Wine People" is the ultimate book club pick.